Freehand — Los Angeles, USA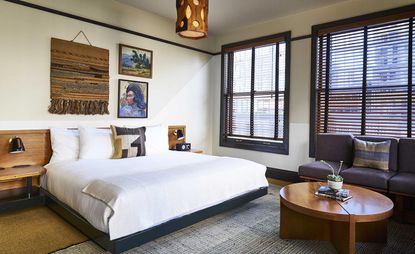 (Image credit: Press)
First opened in Miami, the Sydell Group's Freehand properties turns the boutique hotel inside out. Emphasising comfort over chic, it trades Italian Minimal for American Craftsman, International for Local, appealing squarely to the tattooed and the bearded, restless Urbanites looking for somewhere that lives like a hotel but feels like home, where the concierge doesn't deal in theatre tickets but knows the closest speakeasy, the best local artisans and the tastiest pulled pork in town.
The Los Angeles property raises Freehand's game from high-end hostelry into luxury brand but retains elements those familiar with its properties will recognise; the clubby atmosphere, lavish use of wood, Old Timey artisanal feel and smattering of ironic mid-century ephemera like macramé panels and what seems like paint-by-numbers artwork.
It also relies on help from friends. New York's Roman and Williams, the firm responsible for the Standard Highline, the Chicago Athletic Association and the Freehand Miami, deftly oversee interiors and Bar Lab's Gabe Orta and Elad Zvi, who shake and stir at the Miami property, return.
Meanwhile, fresh collaboration in the form of Mexican-Chinese chef, Alex Chang, brings L.A.'s eclectic dining scene to the table. Laid-back, low-slung and easy, this is a hotel for the Hipster generation.
INFORMATION
ADDRESS
416 W. 8th St.
View Google Maps (opens in new tab)