Beat the heat with these ten cool swimming pools in NYC
In a city as crowded as Manhattan, summer is a sweaty affair. Taking a dip in a hotel pool is one inviting solution. So if you can't escape to Long Beach or Fire Island or your lakeside home in the Catskills choose from these refreshing options. Whether visitor (or resident weary of crowds), it's the season to select your hotel based on the merits of its pool.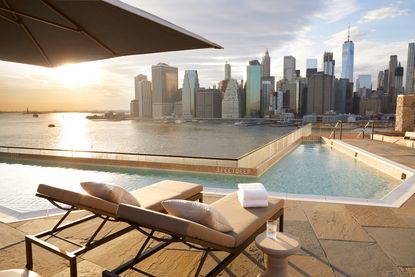 (Image credit: press)
Wallpaper* Newsletter
Receive our daily digest of inspiration, escapism and design stories from around the world direct to your inbox
Thank you for signing up to Wallpaper. You will receive a verification email shortly.
There was a problem. Please refresh the page and try again.
Public at weekends, private during the week, the very adult rooftop pool at the 1 is less about the swimming and more about the chilling. Cheek-by-jowl with the hotel's rooftop garden and bar, a noted purveyor of craft cocktails and light bites, the view from the L-shaped infinity plunge pool is dominated by a jaw-dropping panorama of Lower Manhattan and the Brooklyn Bridge and – for those paying attention – Lady Liberty on the horizon. An integral part of the post-Hipster scene in DUMBO, the Neighbourhood Formerly Known As Gritty, the 1 revels in its use of reclaimed materials and features a plethora of pieces created by the kinds of artists that called this area home before the tech workers moved in and rents became unaffordable.

60 Furman St, T: 1.212 803 1111, www.1hotels.com/brooklyn-bridge
When it came to converting the former Maritime Union into a boutique hotel, Handel Architects took its cues from Albert Ledner's original 1966 design, stripping away unfortunate accretions and playfully modernising the nautical theme with the addition of a plethora of new porthole windows. The lushly planted deck features a sunken glass pool wrapped in the same pierced stainless steel sheeting that clads the hotel's façade. Like an aquatic disco-ball, this allows it to cast patterns on the lobby below and tantalise those checking in with flashes of well-packed trunks. But the drama isn't all below-decks. The deck is home to Manhattan's only 'beach', thanks to the addition of carefully manicured sand from the Hamptons (natch), which enhances its otherworldliness. Not a guest? Book a cabana to get sand between your toes.

355 W 16th St, T: 1.212 229 2559, www.dreamhotels.com/downtown
It's been several decades since the highway hookers, no-holds-barred backrooms and glory-holes of the Meatpacking District were shut down or chased away, to make space for the boutiques, galleries and artfully-named eateries that have transformed this part of the city from sexual underworld into sub-Disney family retreat. Luckily, there are still some things about it that enchant. There's the High Line and the Whitney and then there's the Gansevoort and its rooftop pool. Bijou it may be but come summer weekends, this little square of blue is host to hedonistic parties that summon some of the district's bygone edge. One of the first rooftop hotel pools in New York, it has the advantage of being heated, which means that even off-season guests have a reason to bring a bikini.

18 9th Ave, T: 1.212 206 6700, www.gansevoorthotelgroup.com
Small, but perfectly formed, the pool at the Americano is ringed with seating, which turns even a casual lap into a spectator sport. If public performances are not your thing, consider a quick dip to shake off the heat, or perhaps sit on the side, trailing your feet in the water artistically, as you enjoy a margarita, which for the thirsty are served by the pitcher. Like the rest of the hotel, the work of Mexican architect, Enrique Norton, the pool (better known as La Piscine) channels a chic, Mediterranean Modern vibe that melds perfectly with the New York skyline – the view of the Empire State is particularly choice – and the Mexican seafood treats made to sate hungry bathers reluctant to leave the sun.

518 W 27th St, T: 1.212 216 0000, www.hotel-americano.com
An essay in industrial sleek, the 15th floor rooftop pool is designed with swimmers in mind. Not that it is especially large, mind you - this is still Manhattan, after all - but with much of the immediately adjacent area free of seating, it is clearly meant to be used rather than lounged around. Seating abounds elsewhere, however, as the 812square metre roof features two bars, one indoor and one out, although like the plush lounge chairs, neither impinge upon the pool. Open to the public – although priority goes to hotel residents -and one of the few pools in this part of the city (which explains the neighbourhood-heavy crowd) the main rooftop draw is Mr. Purple, a restaurant/bar known for its fine selection of speciality cocktails and appetising, locally inspired, post-Hipster Brunch.

171 Ludlow Street, T: 1.212 237 1776, www.hotelindigolowereastside.com
Located on podium-level, the sprawling deck at the McCarren may be located in deepest Brooklyn but manages to exude a South Beach vibe. Lush bursts of greenery in the form of potted palms and other glossy-leaved tropical plants, discretely echoed by the leaf print pillowcases on the sun lounge and a bold backdrop of eye-catching Op Art encircle a chlorine-free saltwater pool. All sunny sophistication, the playful atmosphere belies the pool's serious intent; the water is heated and while dimensions aren't exactly Olympic, it is intended for swimming. Accessible to the public seven days a week, things can get crowded at weekends, but rubbing (tattooed) shoulders is nothing the cool kids of Williamsburg can't take in their Acne-clad stride.

160 N 12th St, T: 1.718 218 7500, www.mccarrenhotel.com
Perhaps it's the Carnegie Hall effect, for the city's legendary concert venue is just across the street, but the 25th floor pool and Jacuzzi at the Park Hyatt is not just the only indoor hotel pool on this list, it's also one of the few that has installed underwater speakers. An essay in Minimalism, the vaulting, window-lined space, with its precision-laid floor tiles and white marble columns and wall cladding would feel functional were it not for the flotilla of light boxes, suspended from the ceiling above the dramatically-lit water. Soothing, tranquil and elegant, this is exactly the kind of pool in which you'd expect to find Patrick Bateman floating, possibly face down. As for the soundtrack that will accompany your every lap, it's strictly Classical, of course.

153 W 57th St, T: 1.646 774 1234, www.hyatt.com
Just next to the café bar and surrounded by a ring of tables, the wall of striped loungers hugging the heated plunge pool make this a place to be scene, as well as a perfect backdrop for envy-inducing Instagram snaps, but whether anyone's hair ever gets wet remains a matter of debate. Catering to a (reasonably) chic and (reasonably) young clientele of guests and members, it really comes alive at night, when the sultry music and seductive cocktails, whisked to your table by attentive staff, turn the rooftop into an after-dark urban playground. Aimed at the creative community, it's as good a place to get a tan as it is to relax after a meeting and if, at times, it feels a bit clubby, that's because the outpost in Soho is just one of twenty Houses to which members have access around the world.

29-35 9th Ave, T: 1.212 627 9800, www.sohohouseny.com
The William Vale is quite proud of its pool and with good reason. It may not boast jaw-dropping views, though the serrated cityscape of Manhattan is clearly visible to one side, but it enjoys acres of space thanks to its location on an expansive podium terrace a couple of floors above ground level. At just over 18 metres, this is the longest outdoor hotel pool in the city and is also open to the public from Monday to Thursday on a day pass basis, all season with a membership. Seating ranges from daybeds and loungers to pergola-style cabanas that can be screened off should occupants be in need of a little privacy. Cocktails and summery snacks come courtesy of Andrew Carmellini, graduate of Café Boulud and the Lafayette in NoHo, who also oversees the hotel's three food outlets.

111 N 12th St, T: 1.718 631 8400, www.thewilliamvale.com
Another bijou offering, the rooftop pool at the James is almost more paddling than plunge pool but it makes the most of its location with unobstructed views (yes, that is the World Trade Centre to your south) and spacious teak decking, that is given over to morning meditation and evening yoga classes for guests. Right next to the James' refined bar, which comes with a fireplace, making it a popular destination in winter, too, the deck hosts weekend dance parties and come Sunday afternoon, is almost as crowed, inch-for-inch, as Coney Island on a Labour Day weekend, although the crowd it draws is significantly more stylish. An excellent place to work on your a tan.

27 Grand St, T: 1.212 465 2000, www.jameshotels.com/new-york/soho
Receive our daily digest of inspiration, escapism and design stories from around the world direct to your inbox