New York wellness retreats for plane-free escapes
Jump on a train to recharge, restore and explore at these New York wellness retreats, all just a short ride from NYC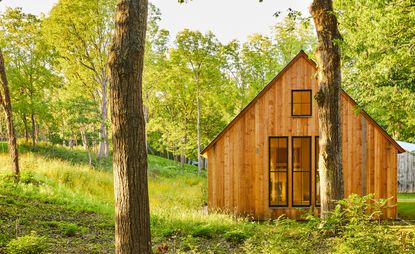 (Image credit: press)
The possibility of jetting off to a secluded spa (opens in new tab) or retreat might still be limited, but for those in or near New York State there are still plenty of serenity-inducing spots only a short drive away.
Below, is a selection of the best New York wellness retreats, all located only a few hours away from the city.
Lake House Canandaigua, Finger Lakes (5 hours 30 minutes by car from NYC)
Lake House Canandaigua is a serene getaway nestled in the Finger Lakes. Sustainably-minded, the property is powered by geothermal energy, and single use plastic is out while composting is in. But don't let its whitewashed wood appearance lull you into thinking this is a lo–fi off–grid experience—its recently opened WillowBrook Spa blends natural remedies with high performance innovative technologies.
While custom-blended herbal tinctures and massage oils are integral to many treatments, its wellness program means business. Their amethyst biomat, used during massage and facials, uses FDA-approved technology to convert electricity through a control panel into FIR (Far Infrared Rays), which conducts negative ions and relieves joint pain, stimulates circulation, boosts immunity and removes toxins. Opt for the UFO facial, which uses a device from Swedish brand Foreo, which administers T-sonic pulsations, LED Light Therapy, and thermo-therapy, or book one of the individual waterfront saunas for an updated experience of traditional purification. Be sure to check the monthly wellness calendar when checking in which schedules yoga, spin, body conditioning and more.
lakehousecanandaigua.com (opens in new tab)
Inness, Catskills (1 hour and 30 minute drive from NYC)
The American landscape painter George Inness was renowned for depicting blissful and majestic bucolic vistas. It's no wonder then that the group of friends who founded this upstate retreat named it after him. The 225 rolling leafy acres in which Inness is situated are transportive. Located in Accord on the edge of the Mohonk Preserve, guests will experience the sensation of leaving noisy, bustling life behind, while being welcomed into the pastoral comforts of this well appointed retreat.
Those who find meditation in doing can swing a golf club or tennis racquet, take a dip in one of the salt water pools or stretch their legs on any one of the many hiking trails. Exploration of the grounds are encouraged, which includes gardens realised under the green fingers of landscape gardener Miranda Brooks. The concept of wellness permeates every aspect of the property, be it the farm shop which sells goods from the onsite 3-acre organic farm or the restaurant which solely uses local ingredients.
Peace and privacy are paramount: the 40 rooms are spread apart over the grounds between 28 cabins and 12 rooms in the renovated farmhouse, which also houses a communal guest kitchen by Plain English & British Standard. The area's Dutch architecture inspired Taavo Somer and Post Company's approach to the buildings - rustic yet functional - which punctuate the landscape.
Opening in 2023 is its new spa and gym with classes, with a program that takes inspiration from its natural surroundings. Balance of mind and body is emphasised over physical fitness or abstinence.
inness.co (opens in new tab)
The Maker, Hudson (2 hours by train from NYC)
The Maker sits right at the heart of Upstate New York's trendiest district, Hudson. Located among the antique shops of Warren Street, this hotel feels like a historic and decadent country house – think dark wood floors, velvet drapes, button couches, winding staircases.
Opened in fall 2020, it's the brainchild of Lev Glazman and Alina Roytberg, the co-founders of global beauty brand Fresh, along with hospitality expert Damien Janowicz. The 11-room hotel was designed by Glazman and Roytberg, down to the fruits-and-flower-print wallpaper in the juice and smoothie bar, and features art and design pieces from local Hudson Valley craftspeople.
Given its creators' background, it's no surprise there is a wellness offering woven throughout. A newly launched massage series – from therapeutic to sports – can be enjoyed in-room or in the vintage circus-inspired gym (featuring gymnastics pommel and athletic hanging rings, as well as state-of-the-art machines and private Pilates sessions). And if you manage to bag one of the in-demand guest rooms, close your eyes by the leafy private pool with striped umbrellas and pool-side service, and you'll be transported wherever else you can't travel this summer.
themaker.com (opens in new tab)
Shou Sugi Ban House, Hamptons (2 hours 30 minutes by train from NYC)
A perfect stay for thoughtful travellers, SSBH's community-focused sustainability efforts extend to nearby beach clean-ups; buildings that utilise geothermal cooling and heating, and solar power; and biodynamic gardens that are landscaped to naturally disperse rainwater, reducing the need for irrigation.
Inspired by the Japanese ethos of wabi-sabi and openness, a stay at SSBH encompasses a spa, healing arts, nutrition, fitness and complete wellness experiences. From breath work to strength training, lymphatic drainage to meridian therapy, every facet of wellness is considered.
Those in need of deep relaxation should check in for a specialised retreat – such as Healing Through Water (with a dedicated culinary menu, daily morning movement class, hydrotherapy, private aquatic fitness class and private beach mediation) or the Digital Detox (including sensory meditation, signature massage, nature walks, a resource guide of suggested daily intentions, and morning and nighttime routines designed to help tune into body and spirit).
Food is considered as seriously as treatments: 'Our culinary philosophy is born from our belief that true health is grounded in nature,' say the co-founders, Amy Cherry-Abitbol and Kathleen Kapnick. Visitors will enjoy a fresh menu (think plant-based with seafood) that uses locally sourced, organic and strictly seasonal ingredients, designed in collaboration with Michelin-starred chef Mads Refslund, co-founder of Noma. You'll leave feeling positively renewed, inside and out.
shousugibanhouse.com (opens in new tab)
Troutbeck, Amenia (2 hours by train from NYC)
Troutbeck is the perfect place to rest and recover, thanks in part to its new addition, The Barns – a recently constructed series of timber buildings housing a gym, expansive yoga studio, treatment rooms and sauna.

The 250-acre estate hotel is not new in itself. Built in 1765, the once private estate has a history of attracting literary and creative types looking to escape the city, among them Ralph Waldo Emerson, Mark Twain, Ernest Hemingway, Sinclair Lewis (America's first Nobel Laureate in literature), and President Theodore Roosevelt.

New York studio Champalimaud Design is responsible for the spare, warm interiors that blend a palette of sage, buttermilk, teal and ochre. Rooms are mellow and uplifting, equipped with Frette linens and Malin + Goetz products (opens in new tab). There's a wood-panelled library with a fireplace, a grown-up sitting room, farm-to-table cuisine, a bar stocked by regional distilleries, and a plentiful pantry for guests to dip into during the day.
Arriving at Troutbeck already feels like an escape, but guests can further unwind by booking one of the many yoga classes or massages on offer. For a more involved release, try Somatic Experiencing – a private session on how to better self-regulate stress after trauma – with on-site meditation expert Sandrine Harris.
Hiking, horseback riding, skiing and fly fishing can be found in the vicinity of Troutbeck, but you'll never need to leave the grounds: take a snooze in one of the hammocks under an old oak tree, dip in the outdoor pool with its poolside bar, or explore the 1916 walled garden that takes you right back in time.
troutbeck.com (opens in new tab)
Tilly is a British writer, editor and digital consultant based in New York, covering luxury fashion, jewellery, design, culture, art, travel, wellness and more. An alumna of Central Saint Martins, she is Contributing Editor for Wallpaper* and has interviewed a cross section of design legends including Sir David Adjaye, Samuel Ross, Pamela Shamshiri and Piet Oudolf for the magazine.