The Trip: explore the ancient and modern worlds of Nara, Japan
Weekly at Wallpaper*, 'The Trip' takes you on a detailed tour of an under-explored town, city or territory, direct from your living room. This week, we journey to the revered Japanese capital, Nara, which has been experiencing a cultural renaissance, led by a savvy herd of young creatives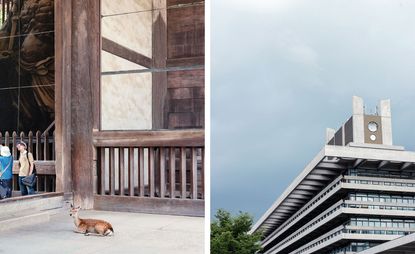 (Image credit: CAROL SACHS)
Wallpaper* Newsletter
Receive our daily digest of inspiration, escapism and design stories from around the world direct to your inbox
Thank you for signing up to Wallpaper. You will receive a verification email shortly.
There was a problem. Please refresh the page and try again.
There are so many places to visit in Japan that Nara, a charming old capital city located roughly at the centre of Honshu, is often overlooked. Two years ago, while working on a book project on the Nara prefecture, I finally made it there, travelling around to visit the ceramicist Shiro Tsujimura, who lives deep in a forest in a house he built with his own hands; witnessing a Japanese tea whisk being made from a simple piece of bamboo by 20th-generation craftsman Tango Tanimura; and exploring the compact city centre. I've been coming back regularly since.
While Kyoto is most often thought of as the traditional old capital of Japan, Nara was in fact capital longer ago, in what is known as the Nara period, from 710-794. Much of Japanese culture originated here and the city is still brimming with temples, shrines and traditional workshops, but is at the same time home to many young creative souls fusing tradition with contemporary design.
My first stop whenever I visit the city is the little Minamo café in a lovingly restored machiya townhouse in a quiet residential area of town. Its daily lunch special is a treat; today it's a main dish of fried aubergine topped with minced beef and soy sauce, a hearty miso soup, steamed rice and a side dish of brilliant green stir-fried string beans. Minamo's young owner, Yoko Fukumoto, serves great coffee and homemade cake, but there is also the newly opened Tabi Coffee Roasters a short stroll away. The roastery is a tiny booth in one of the city's more rundown covered markets, tucked amid a couple of greengrocers and opposite a small Chinese restaurant that doles out cheap ramen and stir-fries to loyal regulars.
Located next to Nara Park, the 1909 Nara Hotel is an example of late Meiji architecture. It is the work of Kingo Tatsuno, the architect of Tokyo Station served at a few high chairs at the small counter, Tabi is just the kind of place the city didn't realise it was missing. It might also help to rejuvenate the market and is certainly a breath of fresh air.

As Nara is less than an hour from Kyoto, many visitors don't bother to spend the night. It's a real shame, as while the city might not have a vibrant nightlife, a late evening stroll along the quiet streets of the old Naramachi area brings its own rewards. Most of the architecture is preserved wooden family homes, and street lighting is kept cosy with the odd lantern in front of restaurants and old lamp posts; near the Sarusawa pond, one is rewarded with majestic views of the fivestoried pagoda of Kofukuji Temple. Follow this up with inventive cocktails at the Lamp Bar (mixologist Michito Kaneko won the top prize at the 2015 World Class bartending competition) or a cold beer over simmered oden dishes at Take no Yakata, a favourite after-hours hangout among locals.
There are a handful of nice ryokans within or near the stunning Nara Park, or the classic (but, let's be honest, rather rundown) Nara Hotel designed by Kingo Tatsuno in 1909, but for me the only proper place to stay is Kiderano-ie. Kidera, as it is often known, is a series of five townhouses on the outskirts of the Naramachi district.

Originally scheduled for demolition, they were painstakingly restored by the Fujioka family, who wanted to show that in the right hands, these small homes could not only live on as specimens of architectural history but also lead the way in combining traditional vernacular buildings with a modern way of life. The five homes now sit in a little pocket of what Nara could look like, if people such as Shunpei Fujioka and his father Ryusuke, the architects behind the hotel, had more of a say in city planning.
The attention to detail is astounding, from the carefully renovated Shōwa interiors with fresh tatami mats and spotless earthen walls, to the thin cotton string tied around the spare roll of toilet paper. Each residence is different, but all come with a kitchenette, bathrooms (many with hinoki cypress bathtubs), separate sleeping and living areas, and a small garden. Unlike a room at a regular hotel, the Kidera homes offer the chance to live in Nara like a local and experience the charms of an old townhouse. Guests are left pretty much to themselves after being given their keys, though staff can be reached by phone 24/7 should the need arise.
After breakfast, I head out to explore Takabatake, the predominantly residential neighbourhood south of the Kasuga Grand Shrine. I start at the well-kept former residence of novelist Naoya Shiga. The house is a mix of traditional Japanese tatami rooms and some clearly Western-influenced additions, such as the bright Sun Room, an expansive space at the back of the house with heavy tiles underfoot and a large glazed opening in the ceiling that lets in plenty of natural light. This is where Shiga is said to have held his famous Takabatake Salons, where fellow novelists and thinkers gathered to discuss world affairs late into the night. The tradition is being kept alive next door at a small café, where coffee, tea and cakes are served alfresco underneath a towering Himalaya Sugi cypress tree.
The city is home to many more interesting outlets, including Anna Hasegawa and her husband Manpei Tsurubayashi's Sonihouse speaker brand. The couple have converted the first floor of an old sushi restaurant into a workshop for their innovative speaker systems, with a combined showroom and concert space on top. In 2007, after working in speaker design for a large audio manufacturer for two years, Tsurubayashi set out to explore the possibilities of omnidirectional sound and started Sonihouse with Hasegawa.
Having studied painting, Tsurubayashi branched out into audio design, launching his own brand, Sonihouse, with his graphic designer wife, Hasegawa, in 2007. They are pictured here with their tetrahedral 'Sight' speakers.
Their 12- and 14-faceted speakers of 12mm birch plywood are now fêted by musicians and music lovers for their ability to recreate natural and ambient sounds. The showroom provides a perfect space for experiencing this in person – the sound seems to fill the space from all directions and as one moves around, the quality doesn't change. The showroom is also used regularly for intimate concerts, both acoustic and electronic. There is usually food from one of Nara's many great cafés and restaurants, and always an eclectic crowd that shares Tsurubayashi and Hasegawa's passion for sound.
Before I leave, Tsurubayashi shows me a beautiful lamp with a hand-blown glass shade hanging above the staircase leading up to the showroom. 'Do you know Nagatomi-san from New Light Pottery?' he asks. I don't, but after a quick phone call a meeting is set up.
A tea room decorated with a deer mural, and a traditional step-chest at Koshi-no-ie, a museum set in a former merchant home in the city's Naramachi district.
That's the beauty of a small city like Nara. Once you know one person, your network expands quickly. Most of the interesting young entrepreneurs know each other, and there is strong sense of camaraderie without everyone necessarily doing the same thing or even headed in the same direction. In bigger cities such as Tokyo or Kyoto, there is intense competition among the creative crowd, but here in Nara, they seem to enjoy each other's company, which makes the city all the easier to penetrate, and more fun.
Hiroyuki Maeta specialises in the local craft of ittobori, Maeta uses 40 different types of chisels to produce both traditional dolls and more contemporary sculptures, such as Nue, the baboon-tiger-snake chimera pictured here.
When Nara was Japan's capital, craftsmen from all over the country followed the emperor and set up shop here, leaving a long and impressive line of traditional crafts in the city. Everything from beautiful raden lacquerware to cast-iron kettles (once a must-have item for the tea ceremony, now increasingly popular among affluent Chinese tea-drinkers) are still made here.

Hiroyuki Maeta is one of the younger generation of craftsmen, specialising in handcarved wooden sculptures called ittobori. The technique is unique in that only straight cuts are made using razor-sharp chisels and carving knives. Many of the works are then painted in vivid colours, distinguishing them from other Japanese carving traditions. Ittobori is most often used for small takasago dolls, but Maeta is taking the craft in a more creative and humorous direction with his larger works, often inspired by ancient Japanese folklore. His adventurous designs have included all kinds of animals (a bright red octopus and a golden Arowana fish), and a set-up of a black devil playing a game of Go with a white devil. A few of these pieces can be seen at the Nara Craft Museum near Naramachi, and he was also recently invited to participate in a craft exhibition at the Nara Prefectural Museum of Art.
An early morning local train takes me to the quiet residential area of Ikoma for my meeting with Hiroyuki Nagatomi, of New Light Pottery. Nagatomi is quick to apologise that his gallery is almost empty, but explains that he is in the process of moving to a new location just outside the site of the old imperial palace. He started his lighting design business while working on the lighting layout for a small bar in Shinsaibashi, Osaka, and struggled to find the perfect fixture to suspend above the long wooden counter. He thought maybe he should just make his own.
Three years on, Nagatomi now boasts a catalogue of more than 20 pendants and a dozen bracket, clip and table lamps – the brand does not produce pottery, rather its name suggests an ambition to infuse the highly industrial production of lighting fixtures with the hands-on, craft-oriented approach of a ceramicist. Most of the lights are made with a combination of glass and brass, the latter with various finishes, such as hammering and colouring with burnt Japanese lacquer to create a mesmerising black surface. Nagatomi is a rare breed in Japan, where a couple of large lighting manufactures have dominated the market. 'I was recently in New York to visit some of the many lighting studios to get inspiration for my own new space. There are so many interesting new lighting companies there, and I wonder why Japan is falling so far behind,' he says. Judging by the swift success of New Light Pottery, he might be starting a trend in his home country.

Before leaving the city, I have booked lunch at Akordu, a restaurant set just on the edge of Nara Park, close to the perfectly manicured Yoshikien and Isuien gardens. The spacious open dining room offers a soothing view out across a large lawn, with parts of the park in the background. I had heard great things about chef Hiroshi.
Kawashima's innovative cooking and strong focus on local ingredients, and am not disappointed. Each of the beautifully presented dishes is not just cooked to perfection, but also offers a subtle twist that becomes apparent either when you take your first bite or via the explanations offered by the attentive staff. Local thin miwa somen noodles are presented as a cold pasta dish with a refreshing sauce of mint and green peppers. Perfect strawberries are marinated with local green tea and elderflowers, something that for me brings back memories of summers in Denmark. Kawashima has spent some time at Mugaritz in the Basque Country and named his establishment after the Basque word for memory.

Just like my meal at Akordu, Nara is a trove of small delights. Behind its timeless façades is a constantly evolving city that teems with creative energy as new entrepreneurs move in and set up shop. §
As originally featured in the November 2018 issue of Wallpaper* (W*236)
Information
Receive our daily digest of inspiration, escapism and design stories from around the world direct to your inbox