Nomad Hotel — Basel, Switzerland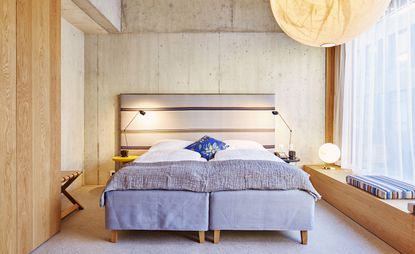 (Image credit: TBC)
Basel may not be known for its boutique hotel offerings, but this may be set to change with the opening of the 65-room Nomad, owned by the same design-conscious minds as the cult-favourite Hotel Krafft.
The new hotel spreads across two buildings; the front house - which was the city's first apartment building in the 50s - and a new loft-like structure in the former courtyard, designed by local architecture practice Büchner Bründler.
Inside, design outfit Grego has tempered the the stark concrete walls with over 1,500 sq metres of kilim (a woven wool fabric), which has been used as carpeting, furniture upholstery and even shrouds the sound-absorbent ceiling panes. Produced by Swedish textile experts Kinnasand, its contemporary designs stand in harmonious contrast to a centuries-old weaving technique. Complimenting the bold textures and colours, are bespoke furnishings in oak and leather, by Swiss designer This Weber, while playful details such as desk lamps in the shape of globes and the occasional floral-patterned cushion adds a dash of warmth and liveability.
At the heart of the hotel is the Eatery, which is divided into a classic dining area with turquoise leather seating, and a backroom with a 'cushion landscape' underneath a large skylight. The menu by chef Roger Willimann draws inspiration from 'places which the urban nomad enjoyed on his travels', and includes such comforting delights as Vietnamese Pho Ga, Bismarck hering and falafel with hummus.
ADDRESS
Brunngässlein 8
TF has been editor of Wallpaper* since December 2020. He is responsible for our monthly print magazine, planning, commissioning, editing and writing long-lead content across all our content pillars. He also plays a leading role in multi-channel editorial franchises, such as our annual Design Awards, Guest Editor takeovers and Next Generation series. He aims to create world-class, visually-driven content while championing diversity, international representation and social impact. TF joined Wallpaper* as an intern in January 2013, and served as its commissioning editor from 2017-20, winning a 30 under 30 New Talent Award from the Professional Publishers' Association. Born and raised in Hong Kong, he holds an undergraduate degree in history from Princeton University.