La Parrilla — Uppsala, Sweden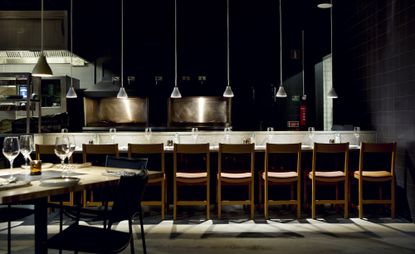 (Image credit: Martin Wichardt)
Uppsala, the fourth largest city in Sweden and the oldest centre of higher education in Scandinavia, is undergoing a culinary awakening.
The latest edition to the city's burgeoning restaurant scene is La Parrilla, a combined deli, pintxos bar and steakhouse that takes its patrons on a saporous journey to New York, San Sebastian and Mendoza.
Conceived by chefs Rafael Löfstedt, Markus E. Arkevid and sommelier Linn Arkevid, the 1 200 sqm large space is Skälsö Arkitekter's (the architectural firm behind the much-vaunted architecture-infused peninsula Bungenäs on the island of Gotland) first completed undertaking on the Swedish mainland, and is laid out to create a spectrum of atmospheres and dining options.
Upon entering, the deli and tapas bar, which features exposed brick, stainless steel, blonde wood, cobbler stools and Afteroom chairs, is urban cool. In the Argentine steakhouse further in, the temperature is turned up a notch with the usage of ochre and terracotta hues to create a warm and homey feeling. The bars are covered with burned wood panelling to reflect the grilling of meat that takes place over open fire. La Parrilla's hang-tenderised prime cuts – the 'chuleta' club steak, the 'solomillo de buey' fillet and the entrecote – come straight from the meat locker, which is on display in the restaurant.
ADDRESS
Vaksalagatan 10
VIEW GOOGLE MAPS (opens in new tab)