The Loft House at Bergaliv — Hälsingland, Sweden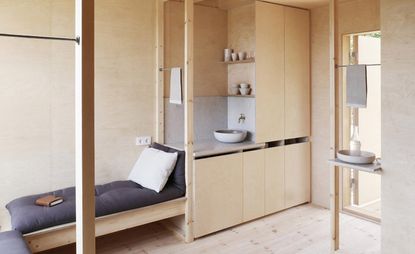 (Image credit: press)
The first of four timber structures that, when complete, will transform a former ski slope on Åsberget Mountain into a retreat called Bergaliv – or 'mountain life' – the Loft House towers over the surrounding landscape at a height of 33ft.

Set over two floors, architect Hanna Michelson's aim is to give guests two different nature experiences on each level; the sheltered bottom floor is located at treetop height, exposing overnighters to dense pine tree crowns, while the level above is stripped of all walls, with uninterrupted views over the treetops, valleys, forests and Ljusnan waterways below – perfect for its purpose as a space for relaxation and reflection.

Downstairs, spartan, compact and smart living is the order of the day, with futon mattresses and linen bedding that can be hung on wall hooks when not in use, windowsill benches that double as dining seating, and a Konstantin Grcic portable 'May Day' lamp for Flos that can be repositioned in the room according to needs.

Sitting particularly light on the earth's surface, the stilted structure was inspired by the timber härbre – or granary – buildings in the area which undoubtedly rhymes well with Michelson's parents' (also the owners of Bergaliv) vision of creating a retreat for quality of life and love of nature.
ADDRESS
Åsberget
Orbaden
Vallsta
VIEW GOOGLE MAPS (opens in new tab)