Swatch Art Peace Hotel, Shanghai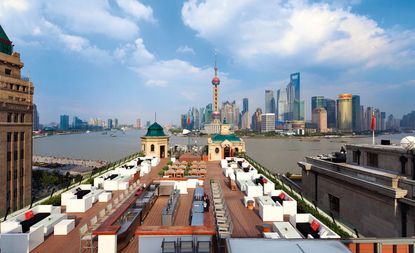 (Image credit: TBC)
The former Palace Hotel fronting Shanghai's Bund waterfront is one of the city's oldest hotels. In its opening year, 1909, the First International Opium Commission was held here, and Chiang Kai-shek and Soong Mei-ling celebrated their engagement in 1927. Winding the clock forward to 2011, this venerable landmark has been re-set as an 'art residence' for jet-set artists and travellers by new leaseholders, the Swatch Group.
Behind the russet-and-white Victorian Renaissance façade, the Swatch Art Peace Hotel is a bold reinvention. The Swatch Group's China flagship Breguet, Omega, Blancpain and Swatch boutiques grace the gilded street-level rooms on the Nanjing Road/Bund intersection. But this is more than a retail destination, or even a design hotel.
Ascending the dark Jacobean staircase, 18 work-live apartments are occupied by selected guest artists-in-residence from around the world, who enjoy a free six-month tenure. The antithesis of the 'tortured artist', these lucky painters, videographers, composers and other arty types create and bed down in designer ateliers, relax in the chic communal library, kitchen and lounges overlooking the Bund, and exhibit their work in sunlit studios and blonde-wood gallery spaces.
In return, they must leave a piece of art for the hotel collection. An installation of musically vibrating wires strung across a hotel wall is a reminder of one artist's recent stay.
If not artistically inclined, staying at the Swatch Art Peace Hotel is expected to be 'wait list' only. On the fourth floor, seven individually designed rooms and suites are available for reservations. These range from simple 40 sq m abodes with bare oak floors and grey brick walls repurposed from Shanghai alleys, to four quirky, themed suites stretching up to 250 sq m.
The suites, by Parisian designers Jouin Manku (comprising Patrick Jouin and Sanjit Manku), are inspired by Chinese culture with an edge of Shanghai audacity. In the Happiness Suite, a king-sized bed is cupped inside a cane half-birdcage, while a black ink-well bathtub is shielded from view by semi-transparent silk screens splashed with watercolour characters.
The kaleidoscopic Prosperity Suite is a rock-star worthy pad with a canary yellow lounge leading through to a huge cocktail bar and mirror clad jet shower. For jetlagged guests, an installation of tiny dangling sheep figurines beside the bed can be counted into snooze mode.
The sixth-floor penthouse is reserved for Kuala Lumpur-based pan-Asian restaurant and bar Shook!. Its alfresco rooftop bar, complete with two private cupola lounges, is a top spot for sunset cocktails against the dazzling backdrop of Shanghai's own artfully eccentric skyline.