Atrapallada — Madrid, Spain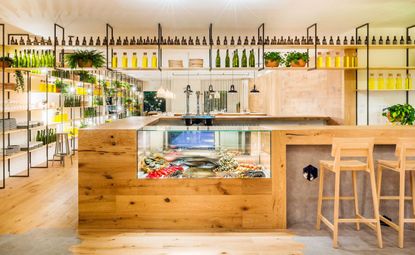 (Image credit: TBC)
Though a perennial favourite with the locals of Madrid's leafy Arganzuela district, Atrapallada could never boast a dining room to match the kitchen's spectacular plates of Galician seafood.
Enter local architects Zooco Estudio, who have transformed a disjointed, fusty interior into a crisp, flowing space clad in solid oak and bare concrete. While ceramics have been deployed in areas of greater traffic, the use of timber has added depth and warmth to areas such as the bar and seafood counter, which displays hours-old seafood from Spain's northern coast. Metallic elements add a pleasing linearity, and the studio's signature facade reveals the thrum and joy of the restaurant to passersby and - hopefully - new patrons.
While chef Domingo Urosa oft-praised for his light hand with seafood - the pulpo (octopus) is particularly good, and keep an eye out for coveted goose barnacles in season - his well-drilled kitchen execute excellent renditions of other regional delicacies such as Galician beef, the protein du jour.
ADDRESS
Paseo de las Acacias, 12