105 Suites by La Cantine — Ibiza, Spain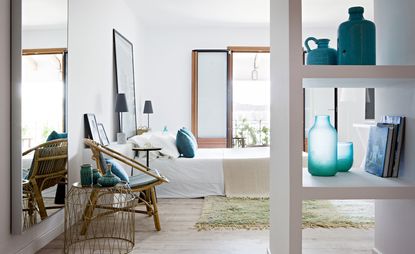 (Image credit: TBC)
A favourite of Paris' boho-chic set, the cult Faubourg St Honoré restaurant, La Cantine 105, might have sadly closed its doors in 2006, but its legacy lives on with the revival of the brand in Dubai and Ibiza.
Now, partygoers living it up until the wee hours on the seductive the terrace of the Ibizan venue, can conveniently meander upstairs to the newly launched 105 Suites.

Located in Marina Magna at the foot of Dalt Vila, the historic town centre, each of the airy apartments comprise a sleeping area, lounge, bathroom, kitchen and balcony, that looks out to vistas of the glittering Balearic Sea and beyond. 'This was key,' says James Michael Lees of London-based Studio Hopscotch.'We want guests to wake up to a view of the sea in a place with a cool, relaxed feel, like staying in a friend's Mediterranean villa.'
As far as the interiors go, the suites are suitably illuminated in bright whites with happy-holiday accents of turquoise blue; and vintage Slim Aarons photographs which adorn the walls, while locally sourced handmade rattan furniture and Moroccan sheep's wool rugs add a hint of 70s allure and texture to the otherwise sleek spaces. 'We may be a little ahead of our time here,' says designer James Michael Lees of London-based Studio Hopscotch. 'But I predict a big return to the sophisticated vibe of the 70s Riviera.'
After waking up to a view of the Med from the bed, head downstairs to La Cantine for a hearty breakfast to soak up any misdemeanours from the night before.
ADDRESS
Carrer Cipriano Garijo, 2
VIEW GOOGLE MAPS (opens in new tab)