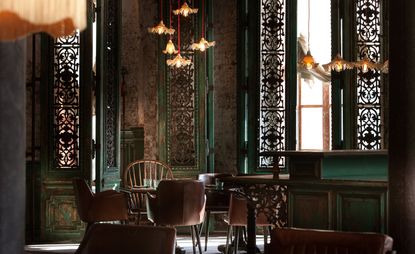 (Image credit: mykazbek.ru)
It's difficult to imagine eating out in Moscow before Russian restaurateur Andrei Dellos came along and lured us into gastronomic extravagance. Now, the man behind the city's iconic Pushkin Café shows no signs of faltering with the recent opening of his eighth restaurant in the capital, a Georgian eatery called Kazbek.

Inspired by childhood memories of his visits to the country, Dellos - a trained artist - has styled the embellished interiors in sumptuous ornate trappings, with low hanging pendant lampshades, framed mirrors and pictures that scatter the walls, a mishmash of knick-knacks that jostle for space on a grid of shelves and grand latticed door panels that divide the main restaurant from the private dining room.

Of course, Georgian food is a festive family affair and in keeping with that, Dellos has appointed Tbilisi chef Mamiya Jojua and his mother to head up the kitchen, where they cook up evocative, hearty classics; 'khachapuri' - traditional cheese filled bread - is topped with sour 'sulguni' cheese and shavings of truffle, while sweet-tooths will struggle between the richly purple 'pelamushi' - a grape juice dessert porridge - or the creamy 'matsoni' filled with young walnuts.

Leave time for an eastern-style coffee served with exquisite silver accessories and sugary sweets or raise a toast to Dellos' latest tasty venture with a glass of crisp Tsinandali wine.
ADDRESS
1905 Street, 2
Moscow
VIEW GOOGLE MAPS (opens in new tab)