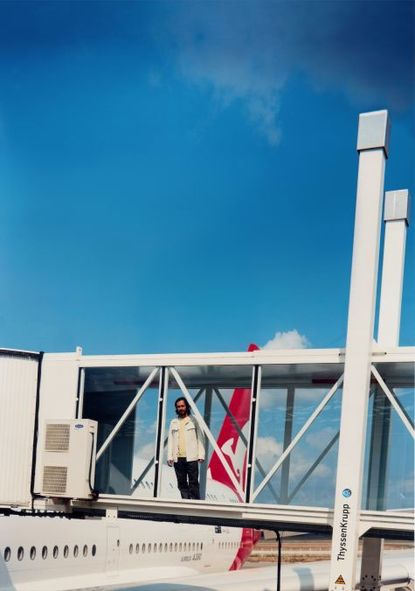 (Image credit: press)
When Qantas Airways took to the sky on 20 October with its first Airbus A380 Superjumbo, business and first-class passengers from Melbourne to LA were given a signed copy of a new book on industrial designer Marc Newson along with their in-flight magazine. He was responsible for the design of the cabin, and the completion of the first aircraft – one of 20 on order – was, according to Newson, the largest project he has undertaken. It was also a rare and fabulous opportunity to create everything from scratch: cabins, seating, lighting, toilets, handles – and even cutlery.
The Sydney-born, London and Paris-based designer started the project six years ago, and in 2006 he was made the Australian carrier's creative director. He has dabbled in aviation design in the past, with his styling of the Dassault Falcon 900B executive jet in 1998, his Kelvin 40 concept jet in 2004 (for Fondation Cartier) and a 2007 spaceplane for Airbus parent company EADS Astrium. But the Airbus project is on a whole new level.
Newson was determined to inject a little excitement back into long haul. 'I travel all the time, and I can remember, in my own deepest, darkest memory, it was an exciting thing.' And this is the plane to bring back the excitement. Its massive width of 6.54m on the upper deck, a Rolls-Royce Trent 900 engine (those contra-rotating high-pressure shafts make all the difference at take-off) and noticeably quieter cabins were enough to turn this Wallpaper* editor into a plane-spotting geek after his first flight.
Qantas has gone for 450 seats across four classes (14 in First, 72 in Business, in a spacious Premium Economy and 332 in Economy); this is less than either Emirates with 489 seats or Singapore Airlines with 471 – the other two early customers of the A380. Newson is quite happy that they managed to give 'more real estate to every passenger'.
The first few things you notice when stepping aboard the Airbus are the striking colours (subdued green and red mixed with greys), the combination of materials (carbon fibre and sheepskin) and the custom-made finishes for seat backs, textiles, wall and floor coverings – all featuring Newson's honeycomb pattern (seen also in the 'Low Voronoi Shelf' for Gagosian Gallery and the 'Horizon' watch for Ikepod).
The designer obsessed over quality, materials, finishes and functionality – things that airlines don't generally seem to pay that much attention to. 'The aviation industry, bizarrely, is not really known for its innovation,' he says.
So with carbon fibre specified for the economy-seat shell, you not only get a material that is lightweight (reducing fuel consumption) but also gain an extra inch of leg room. First class consists of 14 Suites: each passenger gets their own zone, with an ottoman and a chair that swivels or rolls out to form a flat 2.12m bed. The 'suite controller' can adjust seat, privacy screens, massage system and entertainment on the 43cm LCD TV.
Non-premium-class passengers also enjoy a fair amount of spoiling. Everyone is supplied with cotton-covered pillows and lambswool blankets, along with a Panasonic entertainment system, which gives access to the internet.
Currently, Newson's A380 serves flights between Sydney or Melbourne and LA but, come the New Year, high-design flying will extend to the London to Sydney (via Singapore) route.