Riad Mena — Marrakech, Morocco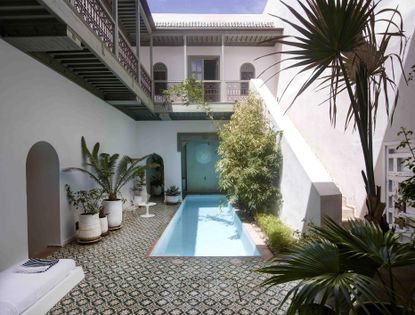 (Image credit: TBC)
Surrounded by narrow, bustling streets and quintessentially Moroccan stone alleyways, Riad Mena stands discreetly on the eastern edge of Marrakech's legendary Medina. Art pundit Philomena Schurer Merckoll took three years to transform the traditional Moroccan house - originally a private residence - into a sleek five-room lodging, featuring polished, modern interiors by local designer Romain Michel-Ménière, interspersed with traditional gems such as vintage kilims, original tiles and leather poufs. Unwind in a traditional hammam or sit under the stars on the terrace where vegetable tagines, couscous and teas are served to a backdrop of old movies. The hotel also boasts a permaculture farm. Located just outside the city in Ourika Valley, two small guesthouses, a hammam and natural swimming pool will be available by the end of the year.
ADDRESS
73 Derb J´Did
(off Place Douar Graoua)
Marrakech
Morocco
VIEW GOOGLE MAPS (opens in new tab)
Daniel Scheffler is a storyteller for The New York Times and others. He has a travel podcast with iHeart Media called Everywhere (opens in new tab) and a Substack newsletter, Withoutmaps (opens in new tab), where he shares all his wild ways. He lives in New York with his husband and their pup.