'Metaverse Dream': new book asks where virtual worlds will take us next
A new book by Assouline, 'Metaverse Dream', suggests we'll spend a decade of our lives in the metaverse. But will it take us on holiday?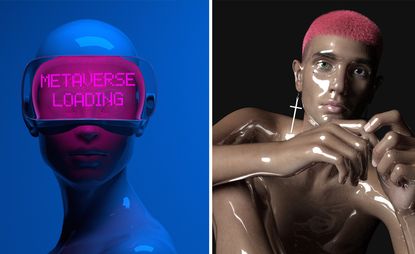 (Image credit: Left, © photoman/Getty Images. Right, © Allan Gregorio. CourtesyAssouline)
'The metaverse has the potential to disrupt almost every single industry on the planet. It will affect both how we work and how we play,' say Paul Dawalibi and Gregory Landegger, who take a deep-dive into the subject for Assouline's new book, Metaverse Dream. 'Over our lifetime, we will spend a decade or more plugged into a metaverse. But the most incredible part is that the metaverse will be an incredible equaliser. It will make mind-blowing experiences and social interaction available to the masses.'
Assouline boldly proposes that 'the metaverse represents the future of travel'. Which begs the question of where you'd like it to take you. 'Today, travel is no longer restricted to a physical, pre-existing destination,' states the publisher. 'With the metaverse, the possibilities are endless as new worlds are created every day.'
Metaverse Dream
The possibilities of the metaverse have already been explored by filmmakers, artists and fashion brands, with everything from movies including Blade Runner and Ready Player One to fashion shows by Gucci and Nike and architecture by Marcel Duchamp, considering the potential of the metaphysical.
In Metaverse Dream, Dawalibi and Landegger trace its evolution, beginning with its origins in fiction and gaming. 'The first, and still best, examples of metaverses are massively multiplayer games,' they say. 'Gamers populated metaverses for decades before anyone even coined the term. Facebook renaming the company to Meta was a key moment in the evolution of the metaverse because it brought the idea to the mainstream.
'All of a sudden, everyone was talking about metaverse, and inevitably big investment and the explosion in popularity followed. The idea of the metaverse brought gaming concepts and gamification to industries, sectors, and investors that would have otherwise written off gaming as "stuff for kids". In recent years, the idea of a metaverse has been driven by the development of digital assets and the evolution of Web3. We believe the metaverse needs to have some form of economy, it does not need to be cryptographically secure.'
Dawalibi and Landegger emphasise the reach of the metaverse, citing examples from the worlds of art, fashion, gaming and technology alongside key moments in the movement's history, while also highlighting its potential beyond brand activations. 'One thing that consistently surprises us is that many designers approach the metaverse as nothing more than a replica of the real world. But the metaverse is not and should not be constrained by the limits that exist in our physical reality.
'There are so many opportunities for designers to go beyond and imagine new realities that would be impossible in the real world. The main challenge is the lack of education on the part of brands. They are spending money on metaverse activations without understanding what drives people to these virtual worlds, and more importantly, what keeps them coming back. Deep gaming experience is critical for success in the metaverse and unfortunately many companies [and] consultants are taking advantage of hype to sell empty experiences in even emptier metaverses.'
Perhaps we won't be booking our metaverse break just yet.
Metaverse Dream by Paul Dawalibi and Gregory Landegger is published by Assouline
Hannah Silver joined Wallpaper* in 2019 to work on watches and jewellery. Now, as well as her role as watches and jewellery editor, she writes widely across all areas including on art, architecture, fashion and design. As well as offbeat design trends and in-depth profiles, Hannah is interested in the quirks of what makes for a digital success story.