Asumundo di Gisira — Sicily, Italy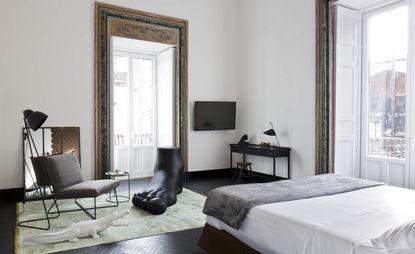 (Image credit: press)
Asmundo di Gisira, like many Italian palazzi, hides its true beauty behind an unassuming façade. Converted from an 18th-century noble residence, the Catanese hotel takes Sicilian's legends as inspiration for its decor, but updates them in contemporary design language.
Ragusa-based Studio GUM spent seven years on the restoration of the 400 sq m compound, just steps away from the landmark Fontana dell'Elefante. The renovation is subtle; original decorative mouldings, ceilings and other elements from the past are retained, while a new skylight in the courtyard and ensuite bathrooms focus on comfort. Local creatives have been involved.
The public area celebrates the myth of Billonia with Sergio Fiorentino's painting of the goddess and an enormous flamingo sculpture by Domenico Pellegrino is a reference to those that used to inhabit the Giardino Vincenzo Bellini's fountain; the Proserpina suite, one of the six generously spaced guest quarters, features hand-painted tiles by ceramist Alessandro Iudici. Together with the handpicked Italian design classics from the 1930s to the 1960s, they serve to bring the building's history forward.
INFORMATION
ADDRESS
Via Gisira 40
VIEW GOOGLE MAPS (opens in new tab)
Yoko Choy is the China editor at Wallpaper* magazine, where she has contributed for over a decade. Her work has also been featured in numerous Chinese and international publications. As a creative and communications consultant, Yoko has worked with renowned institutions such as Art Basel and Beijing Design Week, as well as brands such as Hermès and Assouline. With dual bases in Hong Kong and Amsterdam, Yoko is an active participant in design awards judging panels and conferences, where she shares her mission of promoting cross-cultural exchange and translating insights from both the Eastern and Western worlds into a common creative language. Yoko is currently working on several exciting projects, including a sustainable lifestyle concept and a book on Chinese contemporary design.