Cesare Cunaccia's 'Dolce Vita' book captures Italy's infinite passion for life
Experience the dolce vita lifestyle through Assouline's newly published title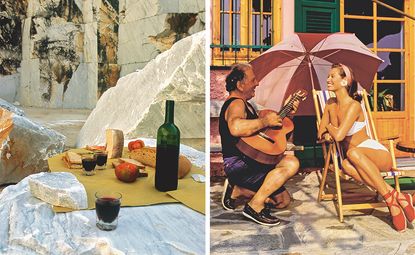 (Image credit: Left, Stefano Scata, right, Arthur Elgort, Condé Nast Shutterstock, both courtesy of Assouline)
Federico Bellini's tribute to the swinging Rome of the 1960s, La Dolce Vita, remains enduring – a portrayal not only of the Italian spirit, marked by charm, passion, and luminosity, but also a contemporary allegory of the Mediterranean 'good life'.
Yet, the dolce vita philosophy isn't confined to the past; it thrives in the Italian and global landscapes today. Not just the upper echelons of society portrayed in the film, but also the 'infinite passion of life,' as described by Fellini himself.
Assouline publishes 'Dolce Vita' by Cesare Cunaccia
In celebration of the six decades since Anita Ekberg's iconic moment in the Trevi fountain, French luxury publisher Assouline presents Dolce Vita, a 320-page volume encompassing the beauty, style, and taste of the unrivalled Italian way of life.
Compiled by Italian writer, lecturer, curator, and journalist Cesare Cunaccia, Dolce Vita continues his Italian artistic legacy, building on his success with titles like Capri Dolce Vita (2019), Tuscany Marvel (2021), and Villeggiatura: Italian Summer Vacation (2022). With a lyrical introduction by Cunaccia himself and an exclusive curation of images, the title takes readers on a journey through Italy, offering a chance to explore the origins of the dolce vita motto.
'The dolce vita is a concept that immediately takes us back to the Italy of the 1960s but that has traced an indelible outline and established an aesthetic and emotional filter which, to this day, remains impossible to surpass. Italy was an accumulation of beauty, art, music and nature,' explains Cunaccia.
The pages of the book are populated with unforgettable characters such as Maria Callas, Sophia Loren, and Marcello Mastroianni, among others. Photographers like Ferdinando Scianna and Bruno Barbey perfectly captured the essence of the dolce vita in their images, documenting this quintessentially Italian spirit from Emilia-Romagna to Rome and Naples to Sicily.
'Love, timeless beauty, the overlapping of past and present, centuries of incomparable art, Hellenistic and Roman ruins, the song of the sea, an ancient civilization and a spirit that's quick-witted, poetic, sarcastic, controversial and fiercely individual, looking backwards to look to the future. Dolce vita means Italy,' adds Cunaccia.
'Dolce Vita' by Cesare Cunaccia is available from Assouline.
Receive our daily digest of inspiration, escapism and design stories from around the world direct to your inbox
Sofia de la Cruz, Travel Editor at Wallpaper*, was born in Madrid, Spain. Moving to London at 14 shaped the professional she has become today. She holds a BSc in Business Management from King's College London and an MA in Strategic Fashion Marketing from the London College of Fashion. Before joining the team in 2023, she served as an associate editor at Hypebae, where her focus was on the intersection of fashion, art, and culture. She also contributed as a writer for Futurevvorld, covering a variety of sustainability topics.