Design Hotel's Future Forum, Berlin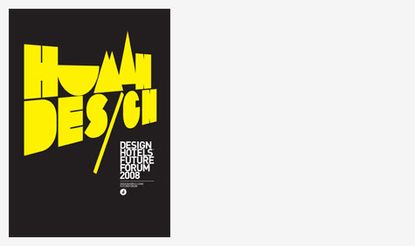 (Image credit: TBC)
The fifth Design Hotels Future Forum, hosted by Claus Sendlinger, founder and CEO of Design Hotels, kicked off last week in Berlin.
Aimed at investors, hoteliers, journalists, architects and designers, the conference serves as a very good platform from which to predict the future of the travel industry. Wallpaper* Travel Editor, Sara Henrichs, sums up four major trends that she picked up on during her time there.
See more images from the conference
Womenomics
It has been estimated that by 2020, 53% of leading businesses will be run by women and women will earn more income than men. Women's needs will therefore become much more apparent in the industry in the years to come, in both a physical and phsychological sense.
Bleisure
Bleisure describes the blurring of business and leisure. More and more work is starting to define us, rather then us defining work and more and more business hotels are starting to merge into boutique establishments. In the future perhaps we will all be so constantly connected to technology, we may actually pay for the ability to disconnect.
Food and Drink
The trend for fast gourmet food is only just beginning to sweep the globe - the canteen culture is becoming the way of socialising. People are more and more demanding a personal relationship with the food they buy and luxury and organic supermarkets are popping up all over the Western world.
Other trends in the catering industry include having a specialist on site such as
cheese or sommeliers offering guests an individual service, while the food itself is becoming much more sensual Maria Vogelzang of caterers Proeff in Rotterdam gave a fascinating speech about her 'Eating design' company which as well as taste is equally concerned with smell, sight, sound and feelings.
Design Directions
Architects, artists and designers today and in the future will be more concerned with creating buildings or interiors based on safety, adaptability and function rather than playfulness and decoration. The outside of hotels and public buildings will be seen as shields to protect from the dangers of terrorism etc while the interior will be calm and cosy in contrast.
Receive our daily digest of inspiration, escapism and design stories from around the world direct to your inbox
Melina Keays is the entertaining director of Wallpaper*. She has been part of the brand since the magazine's launch in 1996, and is responsible for entertaining content across the print and digital platforms, and for Wallpaper's creative agency Bespoke. A native Londoner, Melina takes inspiration from the whole spectrum of art and design – including film, literature, and fashion. Her work for the brand involves curating content, writing, and creative direction – conceiving luxury interior landscapes with a focus on food, drinks, and entertaining in all its forms