Bulgari Hotel Tokyo showcases the Italian art of living in Japan
The new Bulgari Hotel Tokyo unites the consummate craftsmanship of Italy and Japan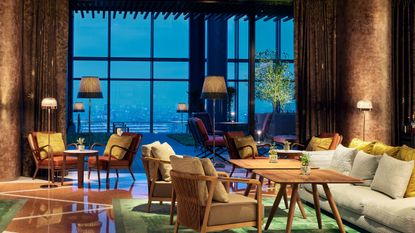 (Image credit: Courtesy Bugari Hotels & Resorts)
Location and relationships are everything for Bulgari Hotels & Resorts, which brings its properties to life with the same exquisite craftsmanship and artistic detail as the Rome-based jewellery maker does its watches and gems. In the newly opened Bulgari Hotel Tokyo, this design ethos merges with the pride and passion of Japanese carpenters, stone masons, and textile artisans, achieving a perfection of execution that's studded with grace notes of Italian spontaneity.
Bulgari Hotel Tokyo: step inside
Crowning the top six floors of Tokyo Midtown Yaesu, a 45-storey tower and glittering retail complex situated directly in front of the bullet-train serviced Tokyo Station, the 98-room hotel is as intimate as it is magnificent. Whispers of the Mediterranean are found in the warm palette of tangerine and saffron lightened by sugary browns and whites, while multiple terraces bring the Roman love of outdoor dining and relaxation to a city sorely in need of such spaces.
Terraces are found in the restaurant, lounge, gym, spa, and function rooms, and dramatically flank the rooftop Bulgari Bar, where landscape designer Enzo Enea has planted Japanese yuzu trees on the east side and Italian lemons on the west, along with a profusion of fragrant jasmine. The views are extraordinary.
La dolce vita is the pervading spirit here, and this Italian perspective on the art of living is just what the creators of Bulgari Hotel Tokyo want guests to enjoy. Star chef Niko Romito's contemporary Italian cuisine teases out the lightest purities of essence found in regional home cooking and celebratory feasts, rendering them in bright simple dishes that make the body's cells sing.
At the sushi bar Hōseki, a first for Bulgari, you can sip sakes and rare whiskies with an omakase menu curated by the triple-starred Kenji Gyoten of Fukuoka. Dalliances of Italian and Japanese flavours are found in the hotel's signature cocktails – Marsala semisecco meets awamori; coffee infuses sake; a Bolognese brandy trysts with barley shochu.
Glamorous? Absolutely. Ostentatious? Not a whit. Strike up conversation with any member of the staff and you'll experience the 'pure presence' that's central to the brand's credo.