Hotels are rivalling galleries as the world's top art destinations
The term 'art hotel' has become what 'design hotel' was 20 years ago – here's how, and why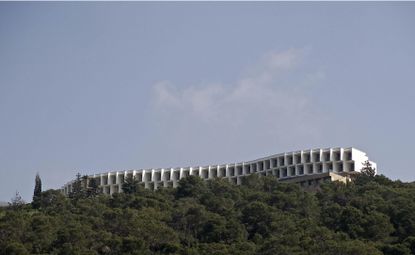 (Image credit: press)
As the evening sun dips behind the Mount Carmel ridge, Sigalit Landau's colossal marble statue, Thirsty, is thrown into stark relief – barbed shadows dancing across the 26-tonne form of two figures locked in perpetual exertion. Holding fort opposite reception, it's the opening gambit at Zichron Ya'akov's Elma Arts Complex, a 95-room hotel founded by art collector and philanthropist Lily Elstein in 2015. It's one of over 500 works from her archive that grace the grounds, in addition to those part of temporary exhibitions. And while the Jacob Rechter architecture and astonishing location are undoubtedly draws, it's this array of artwork that is Elma's raison d'être.

It's an example of the changed fortunes of so-called 'hotel art', once seen as little more than background dressing; abstract pieces in sofa-matching colours or hackneyed watercolours of local landmarks. Of course, over the years a specialised industry has emerged, dedicated to the procurement and curation of artwork collections for hospitality – that often rival those of any independent gallery and provide a cultural tether for travellers.
'We're in the business of providing ideas,' says Melita Skamnaki, co-founder of Double Decker, an art curation studio based in East London. 'By creating bespoke collections – that weave a collective narrative – we connect guests with their surroundings. It's visual storytelling.'

Double Decker applied this sense-of-place philosophy to its partnership with Poland's Puro Hotels, arguably the country's first design-led hotel group. Double Decker worked with PURO until 2017, collaborating with local artists on original commissions across the first wave of pioneering properties, including Poznań and Gdansk. The studio set out to present a Poland of creativity and modernity, while preserving the story of its industrial and seafaring past, tapping some of the country's most compelling artistic talents – the likes of Marta Szostek and Michał Szlaga. Since then, the group's collections have been overseen by in-house curator and art collection editor, Zuzanna Zakaryan, who has continued this progressive approach at Puro's hotels in Lodz, Warsaw and Krakow.
'The term 'art hotel' has become what 'design hotel' was 20 years ago, a new way to impress,' says Sune Nordgren, the celebrated Swedish art expert who curated the collections of Oslo's The Thief and Stockholm's At Six. At the latter, an enormous sculptural head by Jaume Plensa stares down arrivals, seemingly cleaved from the same marble as the lobby staircase, while at The Thief a renowned image by Richard Prince greets, a cowboy and horse locked in a ferocious battle of wills; a charged study of liberation and individualism. Nordgren chose them for their 'immediate impact', both acting as pavement-adjacent lightning rods for artistically disposed travellers. They holler vociferously that the collections that unfold beyond are to be taken seriously – more than mere background noise and featuring luminaries like Andy Warhol and Julian Opie at The Thief and Tacita Dean and Olafur Eliasson at At Six.

But if the boundaries between gallery spaces and hotels are getting a tad fuzzy, it's perhaps most obvious at Cape Town's The Silo, a 28-room hotel that shares a Thomas Heatherwick-designed former grain silo with the largest museum of contemporary African art in the world, Zeitz MOCAA.
The Silo's artwork collection is curated by Liz Biden, the hotel's owner. Like the gallery below, the emphasis is on African artists, emerging and established, but unlike it, there's no ticket charge – save the price of a room or simply a cocktail at the bar; a democratic combination of travel and culture. Visitors can even scoot across town, where the 13-room Ellerman House wows with not only its views but an art collection that explores the social and cultural shifts in South Africa from the 19th century to the present day.

'Until recently, there were only a handful of hotels that had credible collections,' says Liran Wizman, founder of the Sircle Collection, which includes the Sir and Max Brown hotel brands. 'Now it's becoming an aspect of the early stages of planning. In our case, art is as important as the furniture. Indeed, with hotels you can see in the most successful examples that it's a consideration from the outset, rather than an afterthought.'
This was certainly the case at Australia's Jackalope – on the Mornington Peninsula an hour's drive from Melbourne – where works by the likes of Emily Floyd and Kate Robertson feel woven into the fabric of the Carr-designed property, each piece commissioned by owner Louis Li. He describes artwork as a 'conceptual layer' and, for his next Jackalope, slated to open in Melbourne's CBD in 2023, he has already purchased Rain Room – an immersive piece by Random International that went on early exhibition in the city, attracting over 85,000 visitors.

At Lima's Hotel B, meanwhile, Art Tours are part of the 17-room hotel's offer, giving guests an opportunity to learn more about a vibrant collection composed of pieces by mainly Peruvian and Latin American artists – José Tola, Heraldo Higa and Aldo Chaparro among them; It's bijou art store, then, a place to purchase many of the works.
That lobbies and guestrooms have become some of the most intriguing places to peruse art is testament to the nebulous, shifting character of hotels writ large. And just as restaurants with rooms reflected our appetites for food-centric experiences, so galleries with rooms could reflect our desire for cultural ones – the art of travel now within hotels as well as without.
Receive our daily digest of inspiration, escapism and design stories from around the world direct to your inbox