Remembering the work and impact of architect Kerry Hill, who has passed away aged 75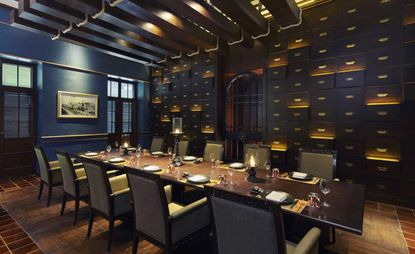 (Image credit: press)
If the essentially modern buildings designed by the Australian architect Kerry Hill, who died on 26 August aged 75, share a defining characteristic, it is surely the sensitivity they show to their surroundings.

Take Aman Tokyo, Aman Resorts' first uncompromisingly urban project, which opened in December 2014 on the upper storeys of a steel-and-glass tower designed by Kohn Pedersen Fox, the sort of high-rise you could find in any thriving city. Alight in the hotel's spectacular 33rd-floor lobby, however, and you could only be in Japan. The walls soar 26m, and like the ceiling, are lined in heavily textured translucent washi paper to give the impression that one is inside a gigantic lantern anchored by a zen garden of water, gravel and rocks.

The rooms are similarly sensitive to their location: a sliding shoji screen separates the sleeping area from the bathroom, which is furnished with a deep square tub (or furo) of the same black basalt as its walls. If these are dark intimate spaces, the bedrooms are filled with light from a wall of glass, against which runs a long, low day bed and tokonoma, (the raised platform used to display flowers, ornaments and shrines in Japanese homes). There is tatami matting on the floor.
The five lodges he designed for Amankora in Bhutan (2004-7) are more modest in scale, but no less of their place, though Hill was careful to point out in a rare interview that they are only 'Bhutanese in spirit. We [did] not replicate their high decoration and colourful nature'. The lodges focused instead on incorporating traditional local materials, from nettle fibres and yak hair to stone and rammed mud. In an area prone to earthquakes the latter was not 'a credible method' by which to build a 21st-century hotel. 'But of course you can do stabilised earth,' he said, because 'it is earthquake resistant'. Hill believed in the 'contemporisation of materials' as 'important parts of the decision making'.

Born in Perth in 1943, where he designed the City of Perth Library (2016, the state capital's first major civic building in nearly half a century) and the State Theatre Centre, he grew up a keen Australian Rules footballer, training as an architect at the local technical college and then the University of Western Australia. He eventually left his hometown in 1971 when he secured a job in Hong Kong.

He subsequently lived in Bali, then Jakarta, and in 1979 moved to Singapore, where he set up Kerry Hill Architects having secured a commission from the hotelier Adrian Zecha. It was Zecha who went on to found Aman in 1988. The relationship was cemented when Hill later designed him a home, which Zecha said was the most comfortable he had ever lived in.
Hill went on to design nine Aman Resorts – among them Amansara in Cambodia; two in Sri Lanka; Amanemu, in Shima, 300km southwest of Tokyo; and Amanyangyun in China. Each was as conscious and sensitive as the next. Amenemu in Shima draws on the design of Japanese minka houses and their internal cedar screens that are crafted incorporating delicate fretworked panels known as kumiko – a technique that dates back to the 7th century.

Of course Hill's practice, which remains based in Singapore with an office in Fremantle, Western Australia, did not work only for Aman. (Other significant hotels include the Sentosa, Singapore; the Sukhothai, Bangkok; The Datai on the Malaysian island of Langkawi; and the Desert Palm, Dubai.) Nor did it work exclusively in the hospitality sector: the Singapore Cricket Association Pavillion is theirs; and in 2012 it won the contract to design a new 100ha Royal Military Academy in Jordan, incorporating a theatre, mosque, museum and extensive sporting facilities.

'We like to think that each building is designed especially for its context and its place,' Hill once said. 'I feel that you need to perpetuate the traditions within the culture and material of a place through your architecture so that it is appropriate.' It is a typically wise statement from an innately modest and private man, who saw his duty as an architect as somehow predetermined: 'I am an architect like a dog is a dog. That's my lot in life.'