Rescue mission: the story behind Aman's new Shanghai property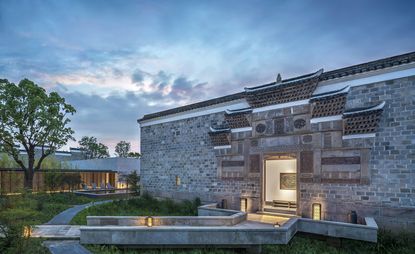 (Image credit: press)
Fuzhou-born entrepreneur Ma Dadong could not have imagined that his humble plan to rescue the ancient trees and antique houses in his hometown from demolition would result in a 15-year conservation project that would eventually lead to them being relocated over 700km away. And he certainly could not have imagined that the initiative would be the impetus for Aman's newest property and one of the most intriguing hotel concepts we've seen in a long time.
About an hour southwest of Shanghai, on 10 hectares of land now replanted with the 10,000 rescued camphor trees, Amanyangyun is the work of Kerry Hill Architects, who has restored and meticulously reassembled 26 of the 50 historic homes. 13 of these have been transformed into one or two-bedroom villas that sit majestically within an enclosed garden complex that comes complete with a private swimming pool and and a surrounding newly-built guest wing, available to book separately.
Cleaving close to the Aman philosophy, contemporary touches have been quietly delivered. And so, the original soaring ceilings, timber beams, and ornate stone carvings of the 400-year old homes have been updated with low-key, indirect lighting, swathes of local nanmu wood, low-slung, understated furnishings in neutral tones, and subtle Asian inflections such as latticed screens and lamps. This aesthetic continues in the modern guest wings and the additional 24 newly built suites, which nod to the structure of the classic Chinese home, with private courtyards.
Along with a cinema and a sprawling 2,840 sq metre spa - kitted out with 10 treatment rooms; suites for hydrotherapy and reflexology; a state-of-the-art gym; pilates studio; and an indoor and outdoor pool - diversions here are plenty. But the highlight is almost certainly Nan Shu Fang - the property's cultural complex named after the royal reading pavilion in the Forbidden City - a modern-day recreation of the scholars' studios of China's 17th-century literati. Here, guests can experience tea and incense ceremonies and spend their days learning traditional crafts such as calligraphy, music and painting, within the most impressive antique building to have made the journey from Fuzhou.
Gourmands meanwhile, will thrill to three dining options, of which LAZHU serves up Chinese dishes inspired by Jiangxi province, the original home of the property's camphor trees and antique villas, against a tranquil background of woodland, gardens and bamboo groves.
INFORMATION
Website (opens in new tab)
ADDRESS
6161 Yuanjiang Road
Minhang District