G&Tea — Sydney, Australia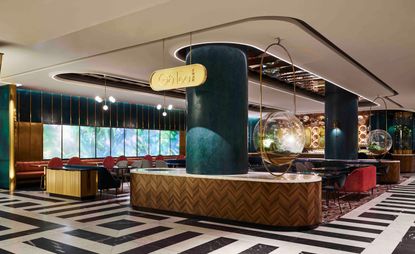 (Image credit: Anson Smart)
Seamlessly transitioning from a café and tea house serving exotic blends to a gin den by sundown, G&Tea reconstructs an immersive natural environment through a lavish futuristic lens. Located beneath Sydney's Astral Hotel, the gilded venue with its gently curved furnishings and polished brass joinery pairs retro 1960's space age design sensibilities with modern technology.
A panelled kinetic LED screen dominates the rear wall bringing a verdant rainforest landscape to life, whilst the magic of moonlight and fireflies provide the atmospheric backdrop for sipping an array of botanical cocktails at night. 'Reactivating the windowless dark space, our gaze was set on the notion of Sydney as an Emerald City oasis. So we drew the outside in,' enthuses Stuart Krelle, co-director of design practice Luchetti Krelle. Fluid turquoise-lacquered walls mingle with amoebic velveteen lounges and chairs in virile sapphire and coral shades capturing the glow of native wildflowers – an organic theme further explored via floating spherical terrariums cradling petrified greenery.
Pattern-play is highly considered. The marble floor's cloud-like swirls combined with the smokey-hued chevron-panelled oak bar and service areas reference steam rising from prestige brews during mesmerising GongFu ceremonies conducted by tea masters within. A Midas touch permeates the bar area. Come evening, its oblong screens (a shape repeated on micro and macro levels) pivot outwards revealing rows of neon halos framing bottles of gin beside the glass teapots permanently on display. Above, a panoply of tilted circular mirrors reflect the high gloss surface finishes to dazzling effect.
ADDRESS
80 Pyrmont Street
Pyrmont
Sydney
VIEW GOOGLE MAPS (opens in new tab)