Locura — Byron Bay, Australia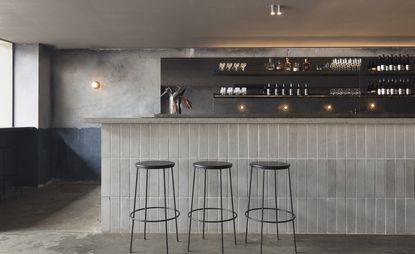 (Image credit: press)
At first glance, Locura's bunker-like the chamber presents brutalist characteristics. There's plenty of concrete, stone, mild steel and industrial brickwork arranged in orthogonal geometries, but underlying this taut tension lies the genius of Pattern Studio's sleight of hand. Expressive materials, sculptural forms and evocative use of light and colour animate the minimalist bar and casual diner in central Byron Bay.
Inspired by small, late-night venues in Mexico City, Locura is the latest offering from the Three Blue Ducks group – their first straddling bar territory. 'We avoided clichés and any cultural appropriation given the bar's South American influence. The design celebrates the low key and pared back charm of Byron Bay,' states Pattern's co-director, Lily Goodwin.
A soothing band of deep oceanic blue graces the saturated matt grey walls with raw brushwork determining the dado line. Framing a cluster of white ceramic vases by local Byron potter, Emma Gale, both reference the imperfect, hand-crafted appeal of Mexican sculpture and design, as does a crudely outlined terracotta orange feature wall. 'These elements were intended to off-set features in the space that feel more luxurious including the leather banquettes and natural stone table tops linking the interior to the al fresco deck area,' adds Goodwin.

Reminiscent of a Japanese noren, a slit petrol blue leather doorway – leading to the service area – and a theatrical sunset orange velvet curtain dominating the DJ nook relieve surface density, as do classic globe wall sconces dotting the room's perimeter. Set at ambient base levels, they gently detect faint ripples of gold upon the walls.

But it's the ubiquitous riot of primary colours concealed in the bathrooms that are the key disruptors. Calling to light the bar's namesake (Locura is Spanish for 'madness'), they reference modernist Mexican architect Luis Barragán's bold colour-blocking and James Turrell's sensorial manipulation of light. Managed by a smartphone app that triggers concealed LED strips, specially treated hard surfaces are instantly awash with any selected RGB colour. 'The venue was formerly an iconic night spot and we wanted to reference its past,' adds Goodwin. 'We really loved the idea of amping up the experience in the bathrooms and making them feel quite strange and theatrical.'
Perch barside for Latin American snacks including tostadas with burnt jalapenos and salsa, managing the heat infusion with mezcal-based kombucha mules. Or linger tableside over red octopus, prawn and coriander-oil ceviche and shredded achiote pork tacos with fermented corn and macadamia cream. Dessert comes in the form of aural stimulation, with DJ's working the decks late into the night.
INFORMATION
ADDRESS
6 Lawson Street