The Fantauzzo — Brisbane, Australia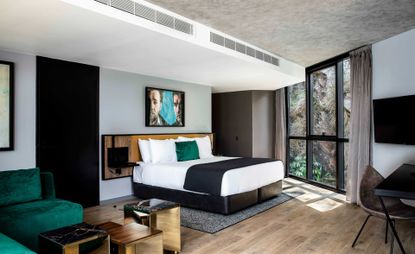 (Image credit: press)
Carved into a cliff face and nestled under Brisbane's Story Bridge, the latest iteration of Australia's Art Series Hotels, The Fantauzzo, is a multi-faceted marvel.
Designed by SJB, its fragmented glass exterior is reflective of its geometric rocky surrounds. A slick broodiness permeates the chiseled interior. Black terrazzo and glass plus smoky stone and concrete clad the spaces, permitting over 500 of Vincent Fantauzzo's photorealist prints to emanate amidst a sombre backdrop with theatrical clarity. 'We wanted to create a sense of coming into a cave,' says SJB Project Director Tristan Wong.
Cue the softly upholstered sofas in rich emerald shades and scatterings of sapphire armchairs glowing like precious stones mined from the site. In tandem with the natural timber floors, they add an organic warmth, whilst electroplated metal accents fuse industrial strength with an opulent finish.
Comprising 166 suites, the hotel also houses the casual Italian eatery Polpetta, plus a rooftop pool and garden oasis with expansive views of the Brisbane River and CBD, firmly establishing its presence within the city's new cultural hub, the Howard Smith Wharves precinct.
INFORMATION
ADDRESS
5 Boundary Street