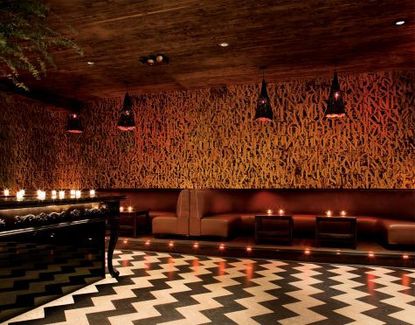 (Image credit: press)
Impresarios Richie Akiva, Scott Sartiano (the duo behind Lafayette Street's Butter), Jeffrey Jah and Ronnie Madra are on a mission to return New York nightlife to the glamour and exclusivity of the 1980s and 1990s with 1 Oak. With the strict bottle service policies of recent years has come a club scene dominated by stockbroker types and their hangers-on, lacking the style and energy that defined decades past. 1 Oak is changing all that with a tough door policy that demands 'personality' and not just heavy spending.
The resulting clientele is a well-curated collection of lower Manhattan's elite and high-profile visitors in the know. Inside, designer Roy Nachum (creator of Saucy and Justin Timberlake's restaurant, Southern Hospitality) has used black marble and rich Brazilian woods to create a decadent space highlighted by four rows of plush stadium seating, offering the perfect vantage point to see and to be seen.
The layout also allows for intimate shows by top artists and musicians, which, not surprisingly, have proven to be among the toughest tickets in town.
ADDRESS
1 Oak, 453 West 17th Street, New York