Christopher Pagani of Pagani Automobili explains how to make a modern hypercar
Pagani Automobili creates a handful of hypercars each year for a very select group of collectors, and now has a Miami showroom in addition to its Modena HQ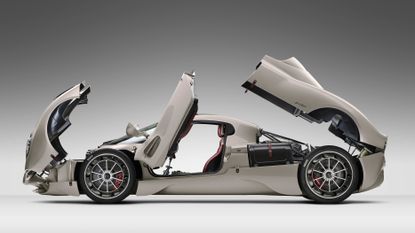 (Image credit: Pagani Automobili)
Wallpaper* Newsletter
Receive our daily digest of inspiration, escapism and design stories from around the world direct to your inbox
Thank you for signing up to Wallpaper. You will receive a verification email shortly.
There was a problem. Please refresh the page and try again.
The global market for hypercars is small, but buoyant. With a new showroom in Miami, Pagani Automobili is making a bigger play for the American market, effectively treating its richly styled cars like fine timepieces or jewellery. The new Pagani Utopia is a case in point, priced at $2.19m and limited to just 99 units, it's built around Mercedes-AMG's tried and tested 6.0-litre twin-turbocharged V-12 engine, slotted into a Carbo-Titanium core structure and clad in outlandishly styled carbon fibre bodywork.
There's nothing remotely shy or retiring about a Pagani; it is the quintessential hypercar. Horacio Pagani founded the company in 1992 after a career working with Lamborghini. His first car, the Zonda, arrived in 1999 and was produced in a dizzying number of special editions and one-offs over the next decade. It was succeeded by the Pagani Huayra in 2011, a car which continued the tradition of special editions and bespoke cars. The Utopia, first seen last year but not yet available to the public, will offer more of the same dramatic sound and fury.
One of the paradoxes introduced by modern mass production is that the more expensive and exclusive an object is, the more likely it is to have required intense craftsmanship and hand-operated processes in its construction, regardless of how high-tech and advanced it appears to be. A Pagani packs in a lot of technology, but the high price reflects not just the cost of the finest components and materials, but the sheer complexity of putting everything together.
We spoke to Christopher Pagani, head of marketing for Pagani Automobili and son of Horacio, about the company's new Miami showroom and the future of the hypercar.
Wallpaper*: With the grand opening of Pagani of Miami, can you describe how the dealership experience in design represents an extension of Pagani's DNA?
Christopher Pagani: Our company wanted to create a space that provides the same familiarity and sensation that one feels while walking through our Pagani Automobili headquarters in Modena. For the design, we included a lot of our natural materials that are in our factories, such as bricks, glass, and our Pagani furniture. Materials that are found in our Pagani cars are also integrated into each dealer space, such as carbon fibre, leather, aluminium, and titanium.
In the case of Pagani of Miami, our design team wanted to create that special feeling of when a client walks into a fine watch store where you are exposed to watches all around the main room, and then they go through into a secret room where the store keeps all their very most amazing and special watches for them to explore. That is Pagani Automobili's overall dealer concept, feeling like each client is walking into a jewel box, surrounded by luxury and privacy.
Importantly, I think we succeeded in creating that bridge between Miami and Modena as well as making a special area for customers to feel like they are in a private place to enjoy espresso, discuss the future of Pagani Automobili, work with us on designing their cars with our specialists, and all while having a feeling of inspiration.
W*: In the 25 years since founding Pagani, how has the market for hypercars changed and evolved?
CP: Generally, one can see the evolution of technology in the hypercar market by simply comparing the vehicles that come out each year. Currently, the transition from hybrid hypercars to completely electric vehicles is where every brand is headed. That brings an element of excitement to clients participating in the evolution of brands, actively helping shape their future. This alone has led to an increase in sales, which has brought new opportunities for all brands operating in the space to consider.
In simpler terms, I also think the hypercar market has evolved in production volumes. If we look at the other Italian brands within the 'Motor Valley' in the Emilia-Romagna region, Ferrari, Lamborghini, and Maserati, you can see how they have all grown their volumes significantly in the last few years to keep up with client demand. As the market grows for these marques, interest in low-production hypercars like Pagani Automobili soon follows.
At Pagani, we keep our production at a minimum and target a specific niche market that still appreciates the element of rarity. Of course, we receive a lot of requests to increase our production volumes, but our company likes to operate on the safer side. At Pagani Automobili, we keep everything controlled because our goal continues to be providing clients exquisite quality, safety, and engineering. We produce around 50 cars per year, and that is our number.
In the current market, we see what is going on, and our company hopes that this demand for rare vehicles lasts. However, the automotive industry has a history of big jumps and situations where there are losses. By keeping our production very tightly controlled, we can keep the brand safe and in a strong place that allows us to develop new products for our clientele. We are very fortunate to be able to continue to do that at Pagani without losing the interest of our clients.
At the same time, our responsibility to each of our clients grows. After 25 years of being in the marketplace, our company has seen a lot of trends happen and this increase in demand is one of them, but Pagani stays on the safe side. At the end of the day, we are a small, family-owned business. We like to develop our decisions with passion, but also, again, with a lot of careful thought and responsibility.
W*: How has Pagani's approach to design and engineering changed from Zonda and Huayra to the Utopia?
CP: So, the first model was the Zonda, which was a car that was inspired by prototypes of Le Mans, and notable cars of the 1990s. And then, we look at Huayra, which is a car that was launched by Pagani in 2011. The Huayra has even more refined aerodynamics, with the use of the four flaps and a completely different approach using a twin-turbo engine.
Our latest is the Utopia, which was recently unveiled in 2022. The Utopia again uses a V12 twin-turbo engine. But, Pagani Automobili is now offering the Utopia with a manual transmission, which is an amazing prospect for hypercar owners in 2023.
Our company always tries to keep many of the same design elements intact for every Pagani, but with an evolutionary twist. Looking back at the past beauty of cars from different eras allows Pagani Automobili to reintroduce those celebrated elements into our vehicles today. That is how our company evolves our creations. We like to be inspired by Italian beauty, nature, and by past automotive design.
So, our approach is really kind of a blend of many different things that eventually work well together. It's an evolution focused on the future while also looking back. This is something that Pagani never stops doing because this is what helps us create future projects.
W*: What are the key technologies that have led to the creation of the modern-day hypercar?
CP: Speaking for Pagani, one of the biggest innovations that was brought to the hypercar market was the use of composite materials. My father Horacio studied different materials to have a better understanding for car application. He was a pioneer in the industry for using different materials in our Pagani vehicles.
Our overall goal for each Pagani automobile is to create a lightweight car. So, our company of course uses carbon fibre, but we also use aluminium and titanium. Our vehicle approach demands constant improvement. We reduce everything we do gram by gram – we study all different types of materials in order to find new applications and understand how to combine them all together.
Generally, Pagani Automobili finds ways to reduce the need of ABS traction control systems that can sometimes filter the driving experience. So, the more we innovate in applied materials and manufacturing, the more we can combine everything to create the ultimate lightweight car.
W*: How close is the company's relationship to its customers?
CP: The connections that Pagani builds with our clients are very important to us. These relationships help us as a company understand what clients want in the next Pagani, and what they would like to see from us in the future.
Client relationships are something that Pagani always has to highly respect, and our clientele has an amazing understanding of the hypercar market. This dynamic makes it much easier to build a genuine relationship with them.
We often engage in conversations with clients about future Pagani products naturally without even knowing it. It is an amazing challenge and opportunity to take our clients' experiences and their knowledge into consideration as we innovate.
W*: How will Pagani approach the era of electrification?
CP: When it comes to electrification, this is a topic our company started discussing a long time ago. As a company that innovates, Pagani is studying the possibilities in creating an electric vehicle that still integrates the DNA of Pagani Automobili.
We don't have a specific deadline to create a full electric Pagani. But that brings an element of freedom, which gives us enough time to keep studying all the different technologies and opportunities that are out there and know the right time to bring it to the market.
Pagani Automobili created a team in 2018 exploring electrification, and we have talked with different suppliers, known to be the best in the world for technologies, batteries, inverters, and everything required. Our company is also constantly talking to Mercedes-Benz, to AMG, and to many other different suppliers to fully understand what opportunities are out there in the market.
Overall, Pagani is very excited about creating something new in electrification because again, it provides a new element of innovation, and that's something that brings us joy. At the same time, we have to consider our number one concern, which is lightweight.
A Pagani product always needs to be lightweight. So, our goal is to create something lightweight, and something that brings joy. And when we find that, we'll do it.
Pagani Utopia, from $2.19m, Pagani.com
Receive our daily digest of inspiration, escapism and design stories from around the world direct to your inbox
Jonathan Bell has written for Wallpaper* magazine since 1999, covering everything from architecture and transport design to books, tech and graphic design. He is now the magazine's Transport and Technology Editor. Jonathan has written and edited 15 books, including Concept Car Design, 21st Century House, and The New Modern House. He is also the host of Wallpaper's first podcast.