Bring me sunshine: Mini's Convertible JCW Sport is an ageing extrovert with style
Future Minis may take very different forms, but the heritage-tinged Mini Convertible John Cooper Works Sport is all about youthful spirit and verve – whatever the age of the driver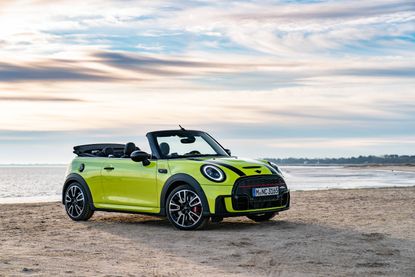 (Image credit: Mini.co.uk)
The convertible conveys a perennially youthful vibe, a carefree mode of transport for the confident motorist. The Mini Convertible John Cooper Works Sport is the modern-day equivalent of a 1960s-era sports car, a car that signals spirit and verve. Yet despite its youthful image, it's surprising to find that modern Mini buyers actually skew older than BMW Group's other brands, BMW and Rolls-Royce.
While the latter has seen the average age of its owners plummet due to the explosion of wealth in new markets such as China, Minis tend to be favoured by older drivers keen to recapture the spirit of their youth. While there was also a retro-modern component of the modern Mini's success, the marque feels a bit adrift in the fast-changing auto industry.
For many years, BMW pushed its primary brand as the key source of innovation within the group. Now things are starting to change and Mini is taking bolder steps with design and technology. Under head of design Oliver Heilmer, recent Mini concepts have ditched the heritage-tinged forms that shaped the company's key products following its revival in 2001.
First there was the Mini Vision Next 100, shown in 2016, and now there's also fully functional version of the Mini Vision Urbanaut, a one-box 'mobile room' shown at this year's Munich IAA Mobility show. Both are radical design departures from Minis of old, emphasising internal space over exterior form while still conveying a sense of compact playfulness. Paul Smith's recent reinterpretation of the electric Mini One (opens in new tab), the Mini Strip, took another tack, stripping a standard car back to its absolute bare essentials and creating a new aesthetic simplicity as a result.
All this is very exciting, but we'll have to be patient. The tech for the Vision cars is yet to enter the mainstream, while Smith's elegantly minimal approach falls short of tiresome things like safety legislation. Perhaps the future lies somewhere between the two?
For now, Mini is ploughing on with its perennially popular core range, even if things are starting to look a little old-fashioned. The company's only EV, the new Mini Electric (opens in new tab), makes few aesthetic concessions to innovation, while its popular plug-in hybrid, the Countryman, is still largely undeserving of its 'Mini' name, for it is essentially a mid-size SUV.
The Convertible John Cooper Works Sport is the most raucous version of the open-topped Mini, a 231bhp spirited driving machine that retains the brand's trademark precise steering and neat handling. John Cooper Works (JWC) was the racing team and tuning specialist that built the original 1960s Mini Cooper, the ultimate pocket performer. Today's Mini is a behemoth in comparison to Sir Alec Issigonis' original. Since the 2001 relaunch, the car has gone through three generations, getting progressively larger in the process, losing its proportional balance, especially in profile.
The conversion to canvas-topped convertible is achieved with admirable simplicity, and the end result is a relatively rare typology, a compact four-seat open car. Power is petrol only, with twin turbos providing the zip and the tightly geared steering accentuating the feeling of compactness and agility. Like all droptops, it's a machine for extroverts, although some of the details haven't aged quite so well – the prominent but stylised Union Jack motifs on the lights, for example.
The fourth-generation Mini is now just 18 months away, but as is happening with all contemporary automobiles, it will inevitably undergo a bit of a character change. As perhaps the last Mini to be petrol powered, there's little point in making massive changes under the hood. Instead, it will be joined by a pure EV version – possibly built in China – that will present slightly different dimensions. Overall, however, it'll still be instantly recognisable as a modern Mini.
The market for premium city cars seems like it should be growing, but in truth the slender profit margin for compact vehicles is having the opposite effect. Mini has prospered largely thanks to the huge range of personalisation options that found favour with buyers looking to make an impact, so that looks unlikely to change. Revolution will probably come elsewhere in the range, with the slippery, lozenge-like Urbanaut concept offering a tempting glimpse of what this long-running brand could be. Just as the 1959 original reshaped the idea of the compact car, Mini is once again poised on the brink of something new.
INFORMATION
Mini Convertible John Cooper Works Sport, from £32,715
Mini.co.uk (opens in new tab)
Jonathan Bell has written for Wallpaper* magazine since 1999, covering everything from architecture and transport design to books, tech and graphic design. He is now the magazine's Transport and Technology Editor. Jonathan has written and edited 15 books, including Concept Car Design, 21st Century House, and The New Modern House. He is also the host of Wallpaper's first podcast.