Gocycle G4 foldable e-bike combines superb engineering and performance
The Gocycle G4 e-bike is the culmination of 20 years of development by British designer Richard Thorpe and his team at Karbon Kinetics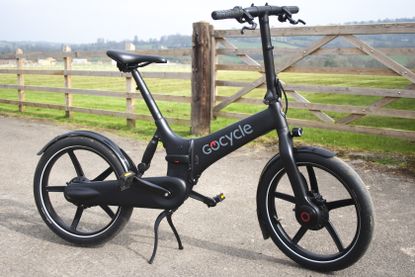 (Image credit: TBC)
Wallpaper* Newsletter
Receive our daily digest of inspiration, escapism and design stories from around the world direct to your inbox
Thank you for signing up to Wallpaper. You will receive a verification email shortly.
There was a problem. Please refresh the page and try again.
The Gocycle G4 is the latest foldable e-bike from Karbon Kinetics, and is the culmination of two decades of development and iteration in e-bike technology, resulting in a product that delivers on almost every front.
Gocycle is the brainchild of Richard Thorpe, a British industrial designer who previously worked at McLaren, where he helped develop some of the world's most sought-after supercars. But after leaving McLaren in 2002, Thorpe turned to e-bikes, building the first iteration of the Gocycle with a simple aim: to create the world's best urban e-bike. Thorpe's vision was ambitious, but 20 years on, in the shape of the Gocycle G4, he's come closer than ever to achieving his goal.
Engineering and design excellence
Where most e-bike manufacturers tend to rely on OEM partners to build components for their bikes – whether that's motors, gears, wheels, or any other part you can think of – Gocycle has a dedicated team of engineers, who have created the G4 from the ground up. This means that every element of the bike has been developed with the ultimate performance and design in mind.
From the enclosed chainset, to the single-sided carbon front fork, to the recessed fittings for mudguards and lights (which have been designed to ensure the overall aesthetic of the bike isn't compromised as you add extra elements), every part of the G4 has been considered.
This would be impressive on any e-bike, but the G4 is also foldable, packing up into an 83 x 37 x 75cm folded size. And whilst this isn't as small as some foldable e-bikes, such as the Brompton, it is small enough to carry onto a train as hand luggage, or fit in the back of your car. And with just two buttons to manage the folding of the bike, it can be assembled and collapsed in a matter of seconds.
The Gocycle G4 riding experience
High levels of engineering also apply to

Gocycle's proprietary hydraulic disc brakes, which feature rotor covers, and – alongside the G4's in-built traction control – deliver incredible performance. So whether you're braking heavily, or riding on gritty surfaces, the chances of you taking a tumble are greatly reduced.
And all of the above translates into a wonderful riding experience. There are three gears that you can select using a shifter on the right-hand grip, with power-assisted pedalling taking care of the rest. These gears give enough scope for most urban terrain, and should you need an extra power boost, there's a button by the left grip that overrides the bike's automatic settings, applying more power.
The G4's low centre of gravity also makes it particularly agile, providing a step up in responsiveness when compared to most e-bikes. And when you combine all of these features, the G4 is huge fun to ride, which – alongside the environmental, health, and financial benefits – is one of the major attractions of e-bikes.
As with all e-bikes, the battery range you get is dependent on how much you rely on the bike's motor. And whilst Gocycle says that the G4's range is up to 40 miles (65km), you can expect a lot less than that if you're continually holding down the power boost button.
Elsewhere, a series of LED lights act as a digital 'fuel gauge' on the G4's handlebars. And for anyone that needs more information, beyond those blinking LEDs, there's a companion app for iOS and Android, which enables you to customise the bike's settings to your specific riding style, whilst also providing telemetry data.
Whether you're commuting through a town or city, or taking a spin in the countryside, the Gocycle G4 excels. And this performance, combined with the highest levels of design and engineering, put the Gocycle G4 at the very top of the pile when it comes to urban e-bikes.
INFORMATION
The Gocycle G4 is available now, retailing in the UK for £3,999, which puts it at the top end of pricing for e-bikes, with higher-spec models also available (the G4i at £4,999, and the G4i+ at £5,999)
Receive our daily digest of inspiration, escapism and design stories from around the world direct to your inbox