Citroën ë-Berlingo: the electric vehicle with a focus on utility
While its range won't be for everyone, few modern cars are as spacious, simple, and unburdened by image as the Citroën ë-Berlingo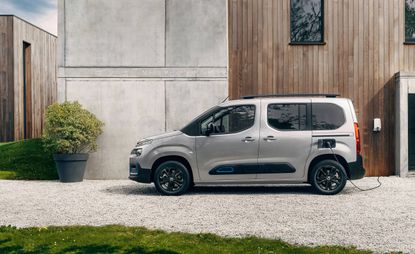 (Image credit: TBC)
The international design community has a long-standing passion – fetish, even – for quirky French vehicles. It can all be traced back to the legendary Citroën DS (opens in new tab) of 1955, but many other oddballs, from city cars to limousines and commercial vehicles, have followed, all of which have displayed a streak of idiosyncrasy that's becoming increasingly hard to find. Citroën has always led the pack, although there have been some notable challengers from Renault and Peugeot along the way.
Some, if not all, of this heritage has been lost to progress. By the time Citroën launched its first Berlingo in 1996, the flimsy angularity of vehicles like the H Van and the 2CV-based delivery vans and pick-ups were not fit for purpose in a world of crash tests and airbags, even if their practicality was undiminished.
The first Berlingo presented the modern face of multifunctionalism. Developed in collaboration with Citroën's then sister-company Peugeot, it had to do many things; it was both a commercial vehicle and an MPV, with a boxy form designed to maximise interior space and practicality. As with the best pieces of functional design, the Berlingo's character came from its utility and simplicity.
Of course, no volume carmakers build 'true' utility vehicles anymore for European and American markets. Building a car is a complex equation that requires integrating stringent regulations into brand values. As a result, the third generation Berlingo, launched in 2018, has lost a little of the latter. The platform still doubles up as both van and car and is still shared across brands (now extended to Opel and Vauxhall, as well as also being used by Toyota).
As of this year, Stellantis, the parent company that oversees Citroëon, Opel, Vauxhall and other familiar names, has removed the conventionally powered platform from sale to private customers; from now on, Berlingos, along with Peugeot Partners and Rifters, and Vauxhall Combos, are all pure electric vehicles (this doesn't apply to Toyota's offering, nor to the commercial variants for the time being).
It's a bold step, for part of what gave the Berlingo its niche appeal was the combination of rugged simplicity and endurance. It is, after all, still a van with windows punched in it. There are chunky bits of plastic, inside and out, with a jazzy seat pattern marking the only concession to fashion or consumerism.
As an EV, however, it loses a crucial bit of functionality. That's not because EVs aren't fit for purpose, but the ë-Berlingo simply doesn't have the range to do the vehicle justice. The 50kWh battery pack is rated for up to 174 miles, a figure that proved more than optimistic in our hands. As an urban delivery vehicle, this is no problem at all. Even as a taxi, it makes sense (estimates suggest an Uber driver does between 60 to 100 miles a day). But as a go-anywhere machine, it is lacking. Whatever the demerits of the old diesel engine, the combustion-powered Berlingo was once good for 600-plus miles between refills.
It's going to be many years before affordable, utilitarian EVs can attain such lofty figures, if ever. In the meantime, Citroën is hoping that a new mindset will emerge, one that favours ultra-small, efficient vehicles for people and light goods, as is the case with its little AMI One (opens in new tab). The AMI is the true heir of the 2CV, but it's still very much a niche outlier – whereas nearly four million 2CVs were built over four decades of production.
In parts of the world where smaller, lighter vehicles aren't subject to anything like the same kind of safety oversight as the EU and US, anything goes. China's best-selling EV is the Wuling Hongguang Mini EV, an ultra-compact four-seater with a 75-mile range and not a snowball's chance in hell of protecting you in a high-impact crash.
Like all of Citroën's smaller cars (opens in new tab), the Berlingo shows us one facet of modern utility, with flourishes of colour and form that exist to serve brand identity, not function. These still don't detract from the solidity of the basic package. The car is available as an XL seven-seater model, which ramps up the taxi connotations still further (as does the larger ë-SpaceTourer model) but offers unbeatable amounts of space.
Perhaps it's not time to mourn the death of well-designed utility just yet. If the range is no barrier – and there are plenty of use cases where it needn't be – then the ë-Berlingo is still a credible machine. Few modern cars are as spacious, simple, and unburdened by image. We can't wait to see what the next generation brings.
INFORMATION
Citroën ë-Berlingo Electric, from £31,995
citroën.co.uk (opens in new tab)
Jonathan Bell has written for Wallpaper* magazine since 1999, covering everything from architecture and transport design to books, tech and graphic design. He is now the magazine's Transport and Technology Editor. Jonathan has written and edited 15 books, including Concept Car Design, 21st Century House, and The New Modern House. He is also the host of Wallpaper's first podcast.