Yves Béhar on his ultimate 'fuse' project with L'Oréal, empathetic tech, and why he designs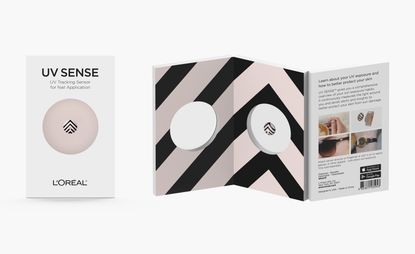 (Image credit: TBC)
We live in an age where the phrase 'UV wearable' is offered in conversation without explanation or definition. For those who aren't up on their tech literacy, a 'UV wearable' is a stick-on sensor that tracks sun exposure, lowering the risk of skin cancer by raising personal awareness around how much sun is too much.

Fuseproject's Yves Béhar thinks it's a phrase that deserves its place in contemporary vernacular. Last year, he joined (somewhat unlikely) forces with L'Oréal's Technology Incubator (LTI) to work on two UV wearable sensors, aiming to make sunworshipping healthier for everyone. He was tasked with giving the widely popular sensor, My UV Patch (first launched by L' (opens in new tab)Oréal (opens in new tab)in 2016 (opens in new tab)) the Béhar treatment. He refined the quaintly heart-shaped design into a sophisticated take on modern jewellery, with a hexagonal architecture.

The Incubator also challenged Béhar to create an entirely new product – UV Sense – an even smaller, dome-based sensor, mere millimeters in thickness, that fits directly on a thumbnail. UV Sense is the world's first battery-free UV wearable, connecting to an app where personalised information and advice on sun exposure can be easily accessed. The sensor, capacitor, and antenna are all contained within the drop-like dome, which is placed with an adhesive onto a nail, or a peripheral accessory, like sunglasses.

We sat down with Béhar to discuss his approach to the project, connected technology, and how contemporary beauty is so much more than aesthetics...

Wallpaper*: How did your relationship with L'Oréal's Technology Incubator begin?
Yves Béhar
: The LTI is L'Oréal's innovation arm for connected beauty. They are keenly aware that for new technologies to be mass adopted, design and experience has to be a core element. Guive Balooch, who leads the Incubator, came to us as the design partner for its initiatives, beginning with the redesign of the My UV Patch as well as moving into more advanced wearable technology like UV Sense.

W*: What is the LTI like to work with?
YB: In many ways, they operate like a start-up. The Technology Incubator is separate from the core L'Oréal brand, which allows them to explore and create in a more agile way. We've really operated as partners, with ideas for new products coming from L'Oréal but also from my team at Fuseproject. We then look at these emerging technologies together, exploring new behaviours in beauty and skin health, and how they can make the most impact on daily wellness.

W*: Is the combination of beauty and technology the ultimate 'fuse' project?
YB: In a way, yes. Any design that improves our daily lives and our overall wellbeing is core to why Fuseproject exists, and why I personally design. Since the founding of Fuseproject in 1999, our motto is to fuse different disciplines of design at the service of a big idea. Our disciplines have the very unique experience of bringing technology and the human experience together with design. A good example of this is Samsung's The Frame, and how art and technology fundamentally change our experience of the display.

Similarly, I think that beauty tech is a huge space that hasn't been explored much. For L'Oréal and us, beauty is so much more than aesthetics. Melanoma diagnostics have unfortunately grown in the last ten years, and we really want to make lives better by educating people about their sun exposure.

W*: How does the branding for My UV Patch and UV Sense embody the idea of the products?
YB: Graphic language on products is imperative for their adoption and success. After all, we are asking users to wear something on their bodies, visible visual expressions, for extended periods of time. This means that expressiveness and quality of concept is foundational. We created both bold and subtle styles that are attractive and personal for men, women, and children.

The other brand experience is the packaging. The UV Patch's packaging unfolds to reveal the product floating in mid-air in a magical way, reflecting how the technology can live discreetly and seamlessly on our bodies. The graphic nature of the UV Patch is reproduced in large scale on the packaging, contrasting with the small scale nature of the patch itself.

W*: Do designers have a responsibility to foray into the world of health and wellbeing?
YB: There is a patent lack of design in health and healthcare. I believe that the key quality of design, which is empathy, can truly improve education and wellbeing in the context of health. My personal belief is that designers have an obligation to make the world better, to improve the human experience, through design. There are countless ways this can be done, but my focus is on personal wellbeing and daily life; looking at how technology can enable new kinds of experiences, as we've created with L'Oréal and the UV Patch.
INFORMATION
For more information, visit the Fuseproject website (opens in new tab) and the L'Oréal website (opens in new tab)
Elly Parsons is the Digital Editor of Wallpaper*, where she oversees Wallpaper.com and its social platforms. She has been with the brand since 2015 in various roles, spending time as digital writer – specialising in art, technology and contemporary culture – and as deputy digital editor. She was shortlisted for a PPA Award in 2017, has written extensively for many publications, and has contributed to three books. She is a guest lecturer in digital journalism at Goldsmiths University, London, where she also holds a masters degree in creative writing. Now, her main areas of expertise include content strategy, audience engagement, and social media.