Brand tradition: the Volvo XC90 paves the way to the future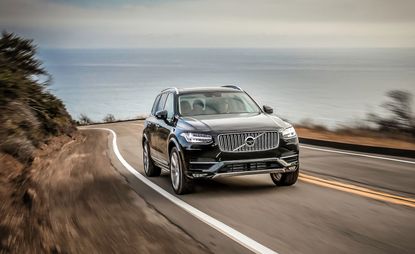 (Image credit: Volvo)
Barely six months after its launch, and the new Volvo XC90 continues to pick up auto show awards, most of them rewarding the Swedish manufacturer's ongoing commitment to safety. In that respect, Volvo's newest model upholds a company tradition, burnishing the long-held perception that the brand makes some of the safest cars on the road.

Get behind the wheel of this titanic and very solid-feeling SUV and you have little doubt you're in safe hand should your own somehow let you down, but there are also other factors at play. The XC90's arrival was well heralded and long overdue. Volvo can lay some claim to inventing the full-size family SUV with the original model, opening the floodgates to a market sector that now dominates the sales charts. But whilst the rivals that came after busied themselves with translating their brand attributes to this new genre of vehicles, Volvo has been largely unburdened by the need to create SUVs that are ultimate driving machines or the embodiment of contemporary luxury.

The company has ploughed a very individual furrow since it built its first cars in 1927 and although fortunes and ownership has been varied, it has stuck to its guns as a purveyor of sober, pragmatic and safe automobiles, agnostically distinct from traditionally automotive brand attributes. Since its acquisition by the Chinese conglomerate Geely in 2010, there's been a generous injection of cash to refresh the entire range and catapult Volvo into a new era.

The XC90 spearheads this technological assault. The car it replaced was well loved, sold well but was long in the tooth, so a new model was first on Geely's to-do list. Big and handsome, the XC90 is light years ahead of its predecessor in terms of dynamics, driver feedback and cabin ambience. The latter is focused on an enormous portrait-shaped touch screen, one of the best-ever automotive integrations of the technology with a genuinely intuitive interface.

Technology is Volvo's new secret weapon. With an image shaped by safety and sober, elegant design, and an inner core of Scandinavian individuality and eccentricity, the company has quietly pushed an agenda that diminishes the totemic qualities of driving dynamics in favour of integrated, automated safety systems.

In many respects, the XC90 is a Trojan horse for driverless cars. Volvo has already designated a section of Swedish highway to trial their systems and has also stepped up and said it'll take liability for any accidents deemed to have been caused by its cars. Right now, the XC90's safety systems will slow and stop the car in the event of an imminent collision, as well as gently steer itself to keep you within the white lines. Volvo is far from unique in providing these abilities, but by self-consciously disassociating the act of 'driving' from the benefits of travelling in a car it is prepping the way for a future when we'll hopefully trust Volvo to keep us in safe hands.

Over the next few years, Volvo will push further and further into this relatively uncharted world, although the sensor-laden snouts of its competitors are snapping at its bumpers. The new S90, due later this year, will be even more laden with tech, while the recent Concept 26 interior showcased a transformable Volvo of the future, with unfolding screens, reclining seats and a cabin that reconfigures itself to accommodate new ways of occupying yourself as the car drives itself. Last year's 'Excellence Concept' also hinted at a new generation of interior design, taking aim at the 'private-jet-on-land' ambience currently dominated by high-end German limousines. Volvo has also announced the integration of Apple CarPlay into the XC90, a seamless way of bringing iPhone functionality to its own big screen.

With the XC90 and soon the S90 Volvo will be swimming in status-infested waters. Nevertheless, it believes fervently that our hang-ups over driving dynamics, sporting abilities and motorsport heritage are all going to undergo a pretty fundamental shift over the next couple of generations. By the time Volvo celebrates the centenary of its first production car in 2027, the automotive landscape might have shifted definitively in its favour.
INFORMATION
For more information, visit Volvo's website (opens in new tab)
Jonathan Bell has written for Wallpaper* magazine since 1999, covering everything from architecture and transport design to books, tech and graphic design. He is now the magazine's Transport and Technology Editor. Jonathan has written and edited 15 books, including Concept Car Design, 21st Century House, and The New Modern House. He is also the host of Wallpaper's first podcast.