Volvo rediscovers its design mojo, thanks to its supercharged SUVs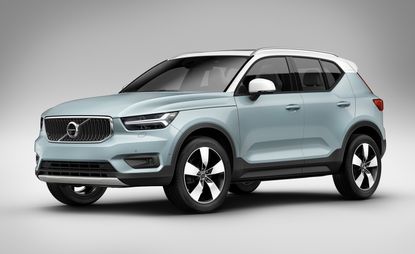 (Image credit: TBC)
With this autumn's unveiling of the all-new Volvo XC40, the Swedish manufacturer has finally completed the SUV family it started way back in 2002 with the original XC90. In recent years, following the marque's acquisition by Chinese manufacturer Geely in 2009 (and subsequent investment), the company has rediscovered its design mojo, and with it a greater purpose, with a mission statement that sets it apart from the competition. Back in July, Volvo stole a march on the industry by announcing it would only build electric or hybridised cars from 2019 onwards. It was a move calculated to raise eyebrows and kick-start debate, and other car makers quickly followed suit.

Volvo's recent good fortune has happened under the watch of Thomas Ingenlath, the company's Senior Vice President of Design. Joining Volvo after over two decades at the VW Group, the German designer set about rationalising the brand, overhauling the range and rediscovering Volvo's USP. 'Our mission was to position Volvo amongst the premium design brands, with Scandinavian flair,' Ingenlath tells us, 'when I started we analysed where Volvo was going. Our positioning was great, but none of it came through in our products. We'd been claiming [Scandinavian heritage] for so long but people hadn't been experiencing it.'

The first fruit of the revamp was the XC90, the company's 'full-size SUV'. Launched to great acclaim in 2014, it was followed earlier this year by the XC60, an adeptly scaled down version with five seats, rather than seven. In terms of tech, appointments, styling and usability, both cars are remarkably similar, with the slightly smaller model having an edge in terms of elegance. 'Without any doubt, the car now gives you an aura of great Scandinavian design,' Ingenlath concludes. And it's true – there is an undeniably grown-edge to the interior and systems, with a graphically sophisticated touch screen, unflashy interface design and a solidity of material and structure.
Volvo set off down its current ideological path by admitting that it couldn't compete with German and British rivals in terms of driveability and dynamics. But hey, it concluded, we'll all be driven by our cars before too long, and the snarling, fume spewing internal combustion engine is on a one-way street towards social purgatory. Instead, the company announced it was focusing on comfort, technology, craft and, of course, safety, using quasi-autonomous systems to bolster their cars' legendary solidity with a high-tech promise of avoiding trouble in the first place.

In September, Volvo finalised its SUV line-up with the all-new XC40, a 'small' SUV aimed at the increasingly lucrative urban market. Previewed a few months prior by the Concept 40, the XC40 ushers in a new product architecture, with bodywork that references all the key Volvo design cues, only a smaller, less imposing scale. 'We are aiming at a different market group,' Ingenlath admits, 'we want to widen Volvo's design expression.'

The elegance of the Concept 40 form, which came in both SUV and saloon variants, has been ably translated into the production car, with details that are bolder. 'It's a luxury to work with a five-metre car,' the designer says, 'so with a four-metre car you have to work differently and have strong graphical elements. We're in a spiral of evolutionary change.' Ingenlath freely admits that Volvo's concepts aren't simply 'free style exercises with no realism'. 'They're always connected to technology that's usable,' he adds, 'from a concept we get learning and feedback. With Concept 40 that was definitely the case. It makes us aim for the better solution.' The XC40 also adopts the interior approach of its bigger siblings, with the massive touchscreen running Volvo's 'Sensus' system to take care of entertainment, navigation and information.
To bolster the idea of the automobile transitioning from a symbol of speed and status into a high-end, high-tech appliance, Volvo has introduced the 'Care by Volvo' service. Debuting alongside the new XC40, the idea is essentially a slickly packaged leasing arrangement, a single monthly payment that's modelled on smartphone ownership, together with two yearly model upgrades and all insurance, servicing and taxation incorporated (and, for some markets, a concierge and valet service too).

All three of Volvo's SUVs are also teasers for next generation technologies, namely electric propulsion and autonomous driving. Volvo's current generation tech is baked into each, with the ability to cruise along a gently undulating motorway with little more than a regulatory tap on the wheel to keep it alert to your presence. Volvo fervently believes autonomous cars can and will go further. 'In our world those technologies very much go hand in hand,' Ingenlath says, 'we have the safety and the design story. These are not driver-focused, so autonomous drive and electrification have come very naturally for us.'

It's a brave car company that predicts a future of self-driving, leased devices, a world away from current ownership models. Even so, Ingenlath hints that Volvo still has a few surprises to spring. 'Our next concepts are very joyful. In a way they're the fantasies you might have had as a young design student – but you're now dealing with them on a professional level. A car without a steering wheel, for example,' he reveals, adding that 'our concept cars are perceived as realistic because we work so thoughtfully. But we won't stop doing design studies that reach further forward. It's an exciting time.'
INFORMATION
Volvo XC90, from £48,655; Volvo XC60, from £36,400 and Volvo XC40, from £27,905. For more information, visit the Volvo website (opens in new tab)
Jonathan Bell has written for Wallpaper* magazine since 1999, covering everything from architecture and transport design to books, tech and graphic design. He is now the magazine's Transport and Technology Editor. Jonathan has written and edited 15 books, including Concept Car Design, 21st Century House, and The New Modern House. He is also the host of Wallpaper's first podcast.