The Handbuilt Bicycle, Museum of Arts and Design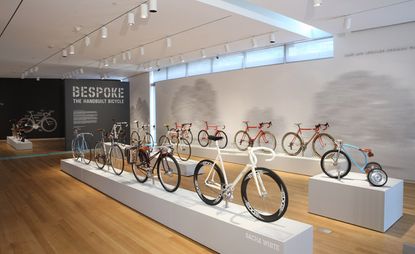 (Image credit: press)
As the proud owners of not one but three new and specially commissioned handbuilt bicycles (look out for our August Handmade issue for details), we were glad to see we weren't the only ones convinced of the particular appeal of a custom built two wheeler.
'Bespoke: The Handbuilt Bicycle' at Manhattan's Museum of Arts and Design celebrates the craft of the contemporary bike builder. Co-curated by Sacha White of Portland's Vanilla Bicycles (and one of the collaborators on our Handmade project) and Michael Maharam of Maharam textiles, a committed bicycle fiend, six of the best bike makers have been chosen to make their point, including the very marvellous Dario Pegoretti of Calonazzo in Italy (see Wallpaper* 131), the only non-US builder on the list. And the 21 bikes collected together run from flavour of the month fixed-gears to the classic long-distance lines of the radonneur and a child's trike.
As our own experiment in bespoke bike building proved, putting together the bike you want involves craftsmen of many different stripes - frame builders, leather workers, specialist painters - and skills from metal working to graphic design.
We are also glad to say that more and more people are upgrading from factory-made frames and turning to hand-builders for a bike that fits perfectly, does exactly what you want it to do and comes in your absolute favourite colour.
'Bicycles like these are at once superb examples of contemporary design, masterpieces of time-honoured artisanship, and works of art,' says museum director Holly Hotchner. We couldn't agree more.