The best online flower delivery services for design lovers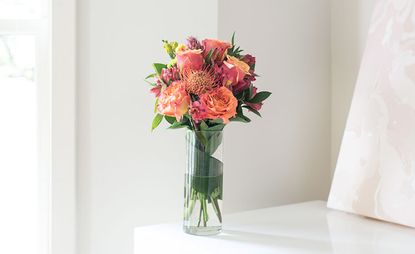 (Image credit: Urban Stems )
Gone are the days of wilted, overpriced bouquets handled by no less than three couriers before arriving–inevitably late– to mark one of life's great milestones. A new generation of digitally savvy flower delivery start-ups has sprung up to supplant the crushed tulips of yore. Here are four such services we love:

Urban Stems (opens in new tab)
Urban Stems has a highly relatable origin story: Ajay Kori's birthday bouquet never made it to his girlfriend, touching off a veritable relationship crisis. In 2014, he joined forces with college friend Jeff Sheely to make sure no more significant others would become hapless victims of circumstance. The service operates in New York and DC, and is expanding to Baltimore and Philadelphia. May Mother's Day offerings included a classy bouquet inspired by Jackie O, and June's selection is a tribute to favorite East Coast beach getaways such as Montauk and Nantucket.

Floom (opens in new tab)
Burberry and Gucci alumna Lana Elie founded Floom to curate locally sourced bouquets as contemporary and design-forward as the customers buying and receiving them. Floom, which launched this year in London, embraces 'a new perspective on the joys of the natural world and the way we humans interact with them.' Not in London? Stay posted: Elie has plans to take her campaign against the generic bouquet worldwide.

Flowerbx (opens in new tab)
Flowerbx earned our Design Awards 2016 'Best Delivery' accolade with good reason. The brand brings Holland's famously colourful blooms to the doorsteps of London. Subscribe for a recurring delivery of seasonal buds ranging from sunny snapdragons and chrysanthemums to brooding black calla lilies.

Bloomon (opens in new tab)
This Amsterdam-based service expanded to London in February, bringing its three sizes fits all approach to flower delivery. Each of its expertly arranged bouquets comes in small, medium and large versions– ensuring you'll never accidentally dwarf your work desk or set a petite cluster of flowers in a foyer big enough to make them look like a corsage. Bloomon kisses baby's breath goodbye, promising 'you won't see any cheap filler.' This American is green with envy.