Studio Job gives the Land Rover Defender a bold new look to mark its 65th anniversary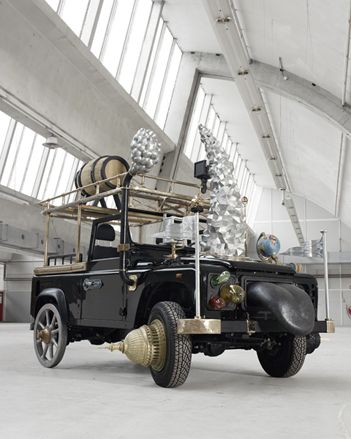 (Image credit: Sylvie Zijlmans)
With a horn protruding from its bonnet and a tongue hanging from its grille, the Land Rover Defender (opens in new tab) has undergone quite a transformation for its 65th anniversary. Add stained glass windows and bronze door panels and there could really only be one name responsible for it's eye-popping change: Studio Job (opens in new tab)

The Antwerp-based practice has always taken a subversive approach to design. Creating furniture and objects for brands like Moooi (opens in new tab), Bisazza (opens in new tab) and Carpenters Workshop Gallery (opens in new tab), it brings a witty, highly decorative sensibility to industrial design and limited-edition works, pushing ornamentation and craftsmanship to the extreme. Which makes the studio a curious choice for Jaguar Land Rover to charge with creating an anniversary edition of the Defender – its rugged icon of off-roading prowess.

But the car brand doesn't shy away from artistic collaboration. The Defender has already been placed in the hands of designer Piet Boon (opens in new tab) and fashion brand G Star Raw (opens in new tab) in recent years. This latest, considerably more daring pairing was born from the personal interest of Marc Bienemann, managing director of Jaguar Land Rover BeNeLux. 'I've known Studio Job for a long time,' he says. 'I've always liked the way they iconize objects by giving them a twist and recasting them in precious materials. And I felt that the Defender's 65th anniversary called for something truly one-off.'

A 'one-off' he has certainly got. Whereas previous collaborations have seen subtle changes to upholstery and exterior styling, Studio Job has literally pulled the car (a 2012 Defender 90 Soft Top) apart and rebuilt it. 'We didn't want this to be a simple styling task – there are better people for that than us,' says Job Smeets, who heads the studio alongside Nynke Tynagel.

In the process of merging the industrial piece and sculpture into one, no detail has been overlooked. Headlamps are polychrome hand-blown glass, the gear lever is cast in bronze, door handles are made from hand-painted faience, and seats are upholstered with fabrics bearing car parts and African imagery.

'I imagine this car as being the parade car of an African tribal leader,' says Smeets. 'It's a caricature of a status symbol.' This would explain the rubber mud flaps and flags with reliefs of African countries and the tribal masks that adorn the windshield. The car is also a riff on the 'testosterone-fuelled Pimp My Ride programmes you see on TV,' he adds.

The 'Art Defender' sculpture isn't, in fact, Studio Job's first collaboration with the brand. Earlier this year, it was tasked to create a limited-edition collection of miniature bronze models inspired by the Land Rover Evoque, handed to those that purchase the car. 'That project was an introductory taster of what we offer, whereas the Art Defender is a truly Studio Job piece', says Smeets. 'It's about pushing the boundaries of what a brand will allow an artist to do.' Thankfully Jaguar Land Rover was remarkably open minded. Says Bienemann: 'We didn't want to set conditions because we wanted an artist's impression of the car. What we've got now is a new icon that is directly recognisable as a Studio Job piece, yet still clearly a Defender.'


Jaguar Land Rover did set one condition however: that the car should be 'driveable'. But even this was a notion Studio Job took pretty loosely. It may be possible to maneuver the Art Defender, but those stained glass windows, and sculpture-embellished wheels might make navigating muddy woodland trails a challenge. But then functionality has never been a big concern for this most unusual of design studios.