Nosing out niche perfumes and bold packaging at Pitti Fragranze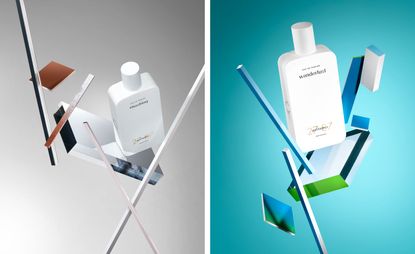 (Image credit: press)
Now in its 12th year, the Pitti Fragranze perfume fair in Florence is arguably the world's leading event of its kind, and it's as good a place as any to check out the pulse of the niche-perfume sector. Though the major brands – the Guerlains, Diors and Chanels – are largely absent, in recent years niche perfumes have been where it's at, so Pitti Fragranze offers a useful overview of new brands and inventive ideas in design and conceptualisation.

Though trends are notoriously hard to discern (which is why so many people are tempted to make them up), two things stood out as we toured the former Leopolda railway station where Pitti Fragranze is held.

The first is that there are more small brands than ever: 271 this year, with 80 of those showing for the first time. This reflects the success of niche brands in general over the last ten years, where they've often outperformed the big boys – but it also suggests that the sector is becoming unsustainably overcrowded.
As the CEO of a major perfume distribution company put it, 'Coming to Pitti with two or three perfumes and calling yourself a brand is delusional. A brand takes years to develop: it needs a wide range of products and some history. I see new "brands" being launched here every year, but half of them have disappeared the next time round.' Launching a niche perfume line does seem to have become something of a rich man's (or woman's) hobby, with few of them having the originality or staying-power to develop into a proper brand.

The second trend (if you can call it a trend) is the way that the vast majority of bottles and packaging belong to one of two styles – let's call them minimalist or baroque. There's some very good design out there, but after a while all the round bottles with black tops and black sans-serif typography on white labels start to blend into each other, and it becomes hard to remember which brand is which. As for the baroque brands, materials used ranged from brass to concrete, with bottles in the shape of organ stops or miniature Dada sculptures.

Here, we round up the top niche perfume lines at Pitti Fragranze...

Top brass: Mad et Len
The brass came courtesy of French fragrance and homeware duo Mad et Len, whose very desirable products can be found in the WallpaperSTORE* (opens in new tab). We wanted to snap up their brass bottle holders on the spot, and their sculptural black caps (sold separately) turn perfume bottles into striking miniature sculptures reminiscent of Miró or Hans Arp.

Eggs factor: Serra & Fonseca
Serra & Fonseca, meanwhile, showed its beautifully made wooden 'eggs' containing solid wax perfumes, also available at the WallpaperSTORE*. They're alluring objects in their own right, and as owner Giovanna Sacconi points out, they're the only kind of perfumes that can be taken safely through airport security in your hand luggage.
Sweet sensation: Francesca dell'Oro Parfum
Less over-the-top, but equally striking in their way, the seven perfumes from Piacenza-based Francesca dell'Oro Parfum come in asymmetrically-faceted bottles that can sit at several different angles. Each perfume is a different colour, and en masse the bottles have the visual appeal of jellybeans.

Nippon tuck: Miya Shinma
Raised in Shizuoka but based in Paris, Miya Shinma creates attractive eaux-de-parfums that evoke her Japanese roots, but what really caught our eye was their refined but pretty packaging, which uses lacquer boxes wrapped in Japanese paper and lengths of kimono fabric.

Home spun: Di Ser and Fueguia 1833
When it came to simpler packaging, we were really spoilt for choice. Most intriguing were two brands that sadly are yet to spread beyond their home markets. Di Ser is based in Sapporo, Japan, and was launched back in 1999; its unusual 'all-natural' perfumes come in appealingly chunky square bottles. Fueguia 1833 may feature in the Wallpaper* guide to Buenos Aires, but sadly its mind-bogglingly vast range of fragrances isn't yet easy to find (though London-based outfitters Trunk have done three collaborative scents).

Basic instinct: Oliver & Co and Laboratorio Olfattivo
Spanish 'fragrance designer' Oliver Valverde launched Oliver & Co in Madrid in 2009, and his 'Illustrated' series has pared-down bottles which contain appealing scents such as the witty 'Ginsence', which combines ginger with frankincense. Italian brand Laboratorio Olfattivo has been around since the same year, and we really like its expanding range, presented in similarly simple glass bottles with smart embossed labels.

Gender bender: Blood Concept
Minimalist in design but baroque in inspiration, Blood Concept spans both trends. Though relatively well-established, the Italian duo's latest releases, 'XY' and 'XX' reference male and female chromosomes, and (in their words) explore gender-fluidity. Totally on trans-trend, the perfumes pair traditional male and female notes in a reassuringly wearable way.
Holy order: Unun Parfum
The organ stops, for their part, were designed specially for the Pitti fair by organist and papal vestment-designer Filippo Sorcinelli, whose Unum Parfum brand is so high concept it's almost out of sight. The three perfumes in his 'Sauf' range not only look like organ stops but are named after stops as well: 'Contre Bombarde 32', 'Voix Humaine 8' and 'Plein Jeu III-IV'.

Grey matter: Nu_Be
Not to be outdone, Italian brand Nu_Be seals its scents in grey polystyrene boxes, which you have to break apart to open; also on show were concrete versions of the broken-open boxes. Described by creative director Alberto Borri as 'an olfactive periodic table', the perfumes range from 'Helium' to 'Mercury', though luckily they have little olfactory resemblance to their namesakes: 'Sulphur', for example, includes cinnamon, pepper, patchouli and vetiver.

On a Swiss roll: Sammarco
The world of niche perfumery may be reaching saturation point, but it's still good to stumble across refreshing new brands. Whether they last the course and become established only time will tell, but their initial offerings are promising. Sammarco's four contrasting fragrances come in red-edged white boxes, subtly echoing the Swiss flag.

White light: 27 87 Perfumes
The first three perfumes from Barcelona-based 27 87 Perfumes come in cool white bottles and are sold from a sharply designed website, but what we really liked was their contents. '#hashtag' may have a name that is dating as we speak, but its blend of violet, aldehydes and musky woods deserves to last, while 'Wanderlust' is that rarest thing: a minty perfume that smells fresh without instantly reminding us of mouthwash. Here's hoping we see them again next year.
INFORMATION
For more information, visit the Pitti Fragranze website