Sjal 'Mind, Body & Spirit' treatment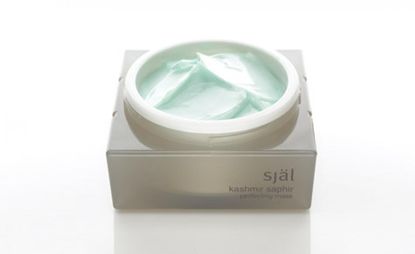 (Image credit: press)
We could all use a gemstone on our person or two, be it for decorative or spiritual reasons. For a similar dose of luxury without breaking the bank, luxury skincare company Själ has unveiled its very first treatment, the Mind, Body and Spirit facial.
Since starting back in 2001, Själ skincare has garnered legions of fans with its simple, yet high performing philosophies. Merging Chinese, Tibetan, Ayurvedic and Vibrational treatment theories with the latest scientific innovations, Själ taps into the power of minerals, gemstones and botanicals to rehabilitate the skin.
The company's new treatment is aimed at realigning the mind, body and soul, and utilises its two newest products: a Pearl Enzyme exfoliating mask, which brightens and evens out skin tone with crushed pearl extract and papaya enzymes, and the Kashmir-Saphir mask, which calms and firms the skin, thanks to copper peptides and blue sapphire. Founders Karen and Kristin Petrovich were inspired by the spiritual reverence for the sapphire in Buddhist traditions; the precious blue stone encourages spiritual enlightenment, calm and inner peace. On a biological level, sapphires are also thought to stimulate the pituitary gland and melatonin production.
It's no surprise that the 80-minute facial is best suited for fatigued and exhausted skin. After some careful cleansing, the Pearl Enzyme mask is first applied to exfoliate the skin. Själ's rich saphir oil is then massaged in with clear quartz wands to encourage circulation and healing, before the second mask, Kashmir-Saphir mask is applied, and a large amethyst placed on the third eye.
Other gemstones, such as copper spheres, black tourmaline and citrine, are also incorporated in the treatment and placed along the body's meridians to balance and clear the charkas. The facial finishes off with a calming, lymphatic drainage massage of the sinus and face with rose quartz wands. Available at the Aqua Spas in the US and Beauty Works West (opens in new tab) in the UK, Själ's new facial is the perfect pick-me-up after to too many late summer nights.
Mary Cleary is the Beauty & Grooming Editor of Wallpaper*. Having been with the brand since 2017, she became an editor in February 2020 with the launch of the brand's new beauty & grooming channel. Her work seeks to offer a new perspective on beauty, focusing on the pioneering personalities, product designs, and transformative trends within the industry.