Scents with stories: Japanese artist Takahashi Hiroko releases personal home fragrances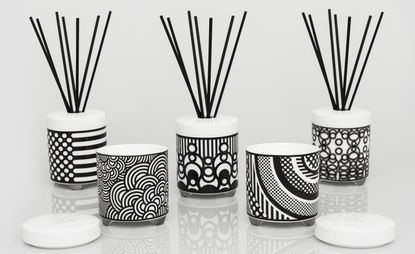 (Image credit: TBC)
Certain scents have a Proustian appeal, taking us back to a certain time, person or place, triggering buried memories. Now, Tokyo-based artist Takahashi Hiroko has channeled this notion in a series of five home fragrances – called 'Japanese Stories' – which are inspired by past experiences from her hometown.

Hiroko, a graduate of Tokyo University of the Arts, is largely known for her signature pattern work, and her geometric and monochrome designs of circles, polka dots and stripes are apparent here in the collection's bone china holders.

Made up of room diffusers and scented candles, the minimalist set's five fragrances – 'Go', 'Yon', 'Ichi', 'San' and 'Ni' – are meant to be evocative of the artist's youthful experiences, details of which Hiroko has shared. For instance, with 'Yon', the scent is 'reminiscent of an early afternoon where nobody is around. A fragrant smell that comes when rushing on a bicycle, feeling the wind, through narrow alleys edged with flowers, among rows of old Tokyo houses. Without a thought I stop, turn and look back. Realising it is a moment to cherish.' This intimate experience manifests itself in top notes of burnt caramel, through nutty popcorn and coffee, down to resin and myrrh – a fragrant tour of hidden Tokyo spots from Hiroko's past.

'Japanese Stories' has been produced in collaboration with BlissHome and is set to go on sale from mid-August.
Receive our daily digest of inspiration, escapism and design stories from around the world direct to your inbox