History of Raffles published ahead of Singapore hotel's grand reopening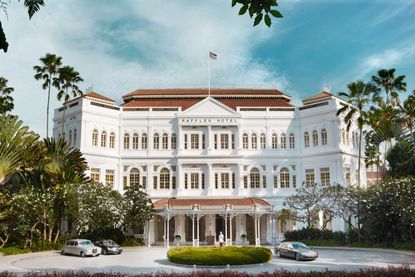 (Image credit: Jenny Zarins)
There is nowhere in the world like Raffles. So starts the coffee table tome Soirees, Sojourns and Stories, written by author (and many-time Raffles guest) Natasha Fraser-Cavassoni, ahead of the historic Singapore hotel's reopening later this year.

Raffles Singapore has been closed for restoration since 2017, a move its making 'in order to stay relevant and distinctive', while 'retaining what is so special about Raffles'. In penning its 132-year history, Fraser-Cavassoni endeavoured to 'capture Raffles charm and savoir fair, yet keep it contemporary', savvy to this pivotal point in the institution's development.

Her thorough and colourful narrative is rooted in the Golden Age of Travel, and its influence on the Raffles world of today, which consists of 13 locations from Jakarta to Paris. We begin with our four founding, pioneering protagonists, the Starkies – ambitious brothers and natural hoteliers, whose influence floats through the halls of each Raffles location to this day. 'Tigran Sarkies displayed the guts of a blind burglar', writes Fraser-Cavassoni of the Singapore debut. 'A visionary, he sensed the potential for a "Grand Hotel", then an unknown entity in the East.'
Clan Sarkies – the Persian born Armenians behind the success of Raffles Singapore. From left, manager Joe Constantine, brothers Tigran Sarkies and Martin Sarkies (seated), and accountant Martyrose Sarkies Arathoon. The studio portrait was taken in Singapore in 1906 when Martin, by then retired and living in Persia, had returned to Raffles for a final visit

Raffles began life as a ten-bedroom beach bungalow with 'modest appeal', on an isolated stretch of Singaporean coast. Its namesake is Sir Stamford Raffles – the British-born founder of modern Singapore. Choosing this name ('boldly', and 'fired up with optimism') Sarkies bestowed upon the hotel historical context, and gave it a familiar ring. Sir Stamford actually had nothing to do with the hotel – making its choice of name the first in a long line of Sarkies' impressive marketing flourishes.
It's a place to see and be seen, but also a place to disappear into, if you so wish
Because the Raffles story is so interconnected with that of the city, Fraser-Cavassoni chronicles the development of Singapore in parallel with that of the hotel. Alongside stand-out recipes and design notes drawn deep from the Raffle's archive, she writes of Singapore's wartime tribulations, and the shifting habits and preferences of the well-travelled passing through the city.

The glitz was dropped for a spell in 1942, we learn, when Singapore was taken by the Japanese army, who proceeded to rename Raffles Syonan Ryokan – open only to Japanese officers and civilians. In revolt, the Raffles kitchen staff buried the stirling silver beef wagon in the garden so as to keep in safe, writes Fraser-Cavassoni, 'their actions indicative of the loyalty that Raffles inspired'.
Raffles guests. Illustration: Luke Edward Halls
Archival photography, panoramic portraits of the hotels, and design detail views capture key perspectives. The added benefit of new illustrations from Luke Edward Hall help to convey the famed creativity of Raffles' most noted guests, residents and staff. With help from Hall's vivid pen, we're transported to the Long Bar, ordering a Singapore Sling (a cocktail created at Raffles Singapore in 1915 by Chinese barman Ngiam Tong Boon). We envision passing shadows of Somerset Maugham, who used to correct his manuscripts under the frangipani tree.

Raffles' is synonymous with exotic glamour and celebrity, but what Soirees, Sojourns and Stories impresses upon is its welcoming hospitality, where service is 'like a welcome breeze'. It's a place to see and be seen, but also a place to disappear into, if you so wish. 'After a long plane journey, guests are greeted by Raffles Singapore's legendary doorman, Narajan Singh,' writes Fraser-Cavassoni. 'Handsome in his distinctive uniform, Singh has a kind smile and soft voice. And as guests venture further into Raffles Singapore, where miraculously everyone knows their name, there's no hassle. The room is ready. Guests receive hand-written notes and a selection of delectables that happen to be their favorite. Small wonder that Raffles is viewed as a home away from home.'
INFORMATION
Soirees, Sojourns and Stories by Raffles, published by Rizzoli. For more information, visit the Raffles website
Elly Parsons is the Digital Editor of Wallpaper*, where she oversees Wallpaper.com and its social platforms. She has been with the brand since 2015 in various roles, spending time as digital writer – specialising in art, technology and contemporary culture – and as deputy digital editor. She was shortlisted for a PPA Award in 2017, has written extensively for many publications, and has contributed to three books. She is a guest lecturer in digital journalism at Goldsmiths University, London, where she also holds a masters degree in creative writing. Now, her main areas of expertise include content strategy, audience engagement, and social media.