A new Palma de Mallorca dental clinic is inspired by minimalism and craftsmanship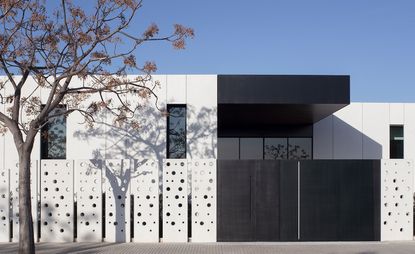 (Image credit: David Zarzoso)
While a trip to the dentist can be a taxing affair for many, Francesc Rifé Studio is brushing up the visitor experience in Spain with the newly designed Pronova Dental Clinic.

First opened in 2002, Pronova's exponential growth over the years resulted in the need for sizeable new facilities to match. Now bringing myriad practices under one roof, the sprawling new 1801 sq m hub features state-of-the-art dental technologies catering to everything from orthodontics to prosthetics.
Francesc Rifé Studio was fast to realise a primary design need for structure and organisation to aid the constant flow of patients and professionals. Influenced by minimalism and the tradition of craftsmanship, the Barcelona-based firm resultantly masterminded an intelligent floor plan that's both logical and visually alluring.

Research spaces, treatment rooms and offices branch out from the central walnut-clad welcome area, hugging the Clinic's exterior walls. More sensitive facilities demanding increased privacy – such as the operating theatre and washrooms – are in turn located towards the practice's heart.
The devil is in the detail as the rectangular floor plan unfolds across two wings. Capitalising on the Palma de Mallorca sun, the building's glass curtain wall stimulates a dialogue between outside and in. Circular apertures, plastered across shaded optical glass surfaces, futuristically filter abundant sunlight. Gently settling over a material palette of grey porcelain and white concrete, the calming visual effect is bound to put the most vexed of patients at ease.

Elsewhere the dynamic green-tinged paediatric spaces break the neutral tone, but it's outside where the real design drama occurs. Reminiscent of Luis Barragán, the Clinic's exterior is a latticework of structural design. A slatted white concrete 'fence' at the perimeter leads to the sculptural exterior façade: a duo of aesthetic layers further playing with light to shape the visitor experience within.
INFORMATION
For more information, visit the Clínica Pronova website (opens in new tab) and the Francesc Rifé Studio website (opens in new tab)
ADDRESS
Calle ca na vinagre 7
07007 Palma
Islas Baleares
Spain
VIEW GOOGLE MAPS (opens in new tab)