Prince Charles takes us for a spin in his cheese-and-wine-powered Aston Martin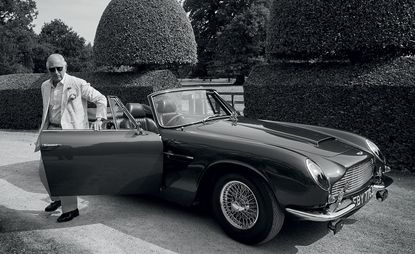 (Image credit: Sir Don McCullin)
Wallpaper* Newsletter
Receive our daily digest of inspiration, escapism and design stories from around the world direct to your inbox
Thank you for signing up to Wallpaper. You will receive a verification email shortly.
There was a problem. Please refresh the page and try again.
Prince Charles likes his outfits and interests to complement one another. Archive images from the 1960s onwards show him wearing, variously, a selection of immaculate safari suits in Kenya, yee-ha-ish western shirts and cowboy boots at a Native American reservation, and rugged equestrian duds for a game of polo. Today, His Royal Highness will be driving Wallpaper* in his beloved Aston Martin around the country lanes of Highgrove, Gloucestershire, and, again, he is dressed accordingly, in a cream linen suit.

Charles has owned the double-breasted ensemble, by Anderson & Sheppard of Savile Row, for decades, and it has suffered inevitable deterioration. 'But I hate waste. So I got them to repair it,' he says, pointing to his tailor's intricate work: tone-on-tone ribbons on the foxed lapels, and barely perceptible reinforcing at the shoulders. Fundamentally, explains the prince, the suit – an old, still stylish fabrication, but running on sartorial vapours – matches his gorgeous Aston Martin DB6, which runs not on petrol or diesel but on cheese by-product and old wine.
Charles bought the car back in 1970, but after decades of ownership he felt morally and environmentally obliged to modernise it. If he was going to keep it on the road it would have to be re-engineered for alternative fuel. No longer a gas-guzzling luxury, it would be a sustainable green machine in line with his myriad eco-friendly endeavours.

'It was difficult,' admits Charles. For years, he had been trying to convert his various cars to bio-diesel. 'I even tried to get the Royal Train to run on old chip fat. It seemed that other countries were way ahead of us on alternative fuels, but we then discovered a splendid company near here who specialise in turning waste products into fuels.'

Gloucestershire-based Green Fuels, which has since earned a Royal Warrant of Appointment, informed the prince that it could supply waste-derived bio-ethanol produced from a combination of wine unsuitable for human consumption, and whey, a by-product of cheese manufacturing. The fuel is blended as 'E85' by adding 15 per cent unleaded petrol, its higher-octane levels (105 versus the more typical 87 of unleaded petrol) making the car more powerful.

Aston specialist RS Williams carried out the DB6's conversion. 'At first, the engineers weren't convinced that the conversion would work, but I insisted that it would,' says Charles as we pass through Highgrove's gates and head out on to the open road. 'When the conversion was done, they had to admit that the car now performs better than ever.'
Charles' cousin David Linley (furniture maker and honorary chairman of Christie's) has a joke about the prince and his car. 'How does Prince Charles drive his Aston Martin? Caerphilly.' It's not a bad Prince of Wales gag, but in truth, as Wallpaper* discovers, HRH is quite a sporty motorist. As if to demonstrate the Aston's eco grunt, he accelerates to a corner (we're on private land now), deftly double declutches and executes a modest wheel spin on the exit. He allows himself a satisfied grin. 'When I first bought the car it seemed incredibly fast and powerful so I asked [former Formula One world champion] Graham Hill to teach me how to drive it. He took me to the Thruxton circuit and showed how it could hold the road at speed. Lovely man. He gave me so much confidence.'

Now gently cruising around the wooded Gloucestershire lanes in summer sunshine, HRH tells of a personal love affair with the great British marque that spans five decades and several bespoke iterations. A member of the Aston Martin Owners Club since 1973, between 1987 and 1995 Charles also owned a 5.3 litre V8 Vantage Volante, gifted to him by the Emir of Bahrain. It included an inbuilt jar to hold sugar cubes for polo ponies. Aston Martin subsequently built more than 20 Vantage Volantes to the 'Prince of Wales Specification' for other customers. Charles' third Aston, a Virage Volante, was leased from 1994 to 2007. The marque has held a Royal Warrant since 1982.

Charles' first ever car was actually an MGC GT, which he drove for a couple of years from January 1968. 'Lovely car. I had it when I was up at Cambridge.' (The prince studied at Trinity College.) Fitted with wire wheels, a heated rear window, an electric aerial and – a novelty at the time – a car phone, the MGC went to the Royal Mews in Windsor in 1970 and later to the Sandringham museum. It was replaced by his Aston Martin DB6 – a MKII Volante, the cognoscenti's choice.
Introduced at the 1965 London Motor Show, the DB6 was the first model to be engineered at the company's Newport Pagnell factory. A lengthened wheelbase and a relocated rear axle gave it a top speed of 148mph and more stability than the DB5. A 'Kammback tail' rear end paid tribute to the Ferrari 250. Charles' car, a rare convertible edition, is fitted with a big red button that reads 'eject'. 'Just a joke,' the Prince assures his nervous passenger.

Why Aston Martin? 'It is one of the great cars,' says Charles, his hands at a perfect 'ten to two' on the polished wooden steering wheel. 'I adore the design and the lines. They are special. I remember Lord Snowdon had a marvellous DB5 in a beautiful gunmetal colour. It was always the car to have.'

We pull into the Highgrove gates and proceed at a steady, gravel-crunching walking pace towards the house. A painted sign wryly cautions us 'Beware! You are now entering an old-fashioned establishment'.

The Prince Charles way of doing things, however, merges aesthetic charm with a maverick sense of responsibility and is as much future-facing as it is 'old fashioned'. The Home Farm at Highgrove operates on organic, agro-ecological system, using homeopathic treatments for cattle and sheep as part of a drive to reduce the use of antibiotics. Ninety per cent of the energy for office and domestic use at the estate comes from renewable sources, and 60 per cent of the power is produced on site. Solar panels have been installed at Highgrove and Charles' London residence, Clarence House, while Highgrove, as well as properties in Scotland and Wales, use biomass boilers; any wood chips used are sustainably managed. Such attention to sustainability certainly fits the description given by Charles' tailor, who once described him as a 'very frugal' customer who used offcuts of suits to make coats for his dogs.

Charles founded the International Sustainability Unit in 2010, seeking solutions to key environmental challenges, such as food security, the depletion of natural capital and ecosystem resilience, and was awarded a Lifetime Achievement at the 7th International Green Awards in 2012. The cheese-and-wine-powered DB6 is a little landmark victory. Green Fuels has patented a waste-derived sustainable aviation fuel (SAF) and is now building a demonstration facility to produce SAF for commercial use.

The fact that cheese whey can make his car go faster is, though fascinating and exciting, also slightly baffling to Charles. 'Don't ask me to explain how it all works. I am more of a tinkerer than an engineer,' he says, his driving hands now plunged into the pockets of his recycled linen suit in that inimitable Prince Charles manner. 'A rags and patches man.'

As originally featured in the October 2018 issue of Wallpaper* (W*235)
Receive our daily digest of inspiration, escapism and design stories from around the world direct to your inbox