Something's brewing: The Modern Pantry pairs high-tea with craft beers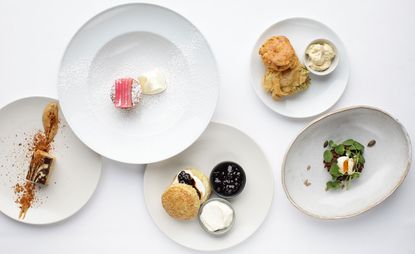 (Image credit: Photography courtesy The Modern Pantry)
One of the most beloved traditions of Britain's food culture, the afternoon tea is a slice of one's day occasionally observed and always enjoyed, redolent of comfort, nostalgia and ceremony. While there have been a slew of 'alternative' afternoon teas cropping up in recent years, leave it to wunderkind chef Anna Hansen of the The Modern Pantry to shake up the establishment and create her own thought-provoking interpretation of a familiar ritual.
Created specifically for the Modern Pantry's new premises in Finsbury Square, in an art deco building in London's financial district, it's part afternoon indulgence and part tasting menu, designed in collaboration with head pastry chef Jennifer Moseley. An inventive series of six courses – ranging from Parsi-influenced dhansak spiced veal mince in a crisp Malay pastry shell, to gochugaru and spring onion scones with pork, umeboshi mayonnaise and fennel kimchi (a clever riff on traditional Korean flavours and textures), the chefs' menu dispenses with convention yet tips its hat to a time-honoured tradition.
For the teas themselves, Hansen and Moseley have also referenced the original tea rituals of Asian cultures, with the menu paired to small batch teas from London purveyors Lalani & Co., or craft beers sourced from the numerous microbreweries dotted around the city. Though we're partial to a refreshing pale ale, the prospect of a delicate Taiwanese oolong or hand rolled Himalayan leaves tips our scales in favour of a lighter tipple.
NFORMATION
For more information, visit The Modern Pantry's website (opens in new tab)
Photography courtesy The Modern Pantry
ADDRESS
The Modern Pantry
The Alphabeta Building
14 Finsbury Square
London, EC2A 1AH