Block party: Outdoor Voices turns a Handmade 2015 concept into reality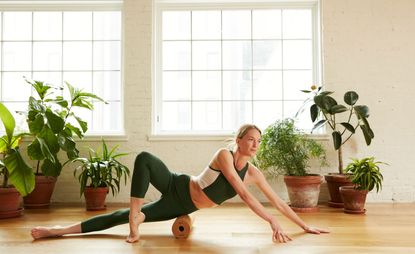 (Image credit: Outdoor Voices)
'Good design is for everyone,' said Russel Wright. This iconic mantra for the modern age continues to extend into realms perhaps not previously considered by the modernists. Last year, when we commissioned projects for Handmade 2015, we paired the fashion-forward active lifestyle brand Outdoor Voices with the equally in-demand design studio Visibility, to put a design spin on a wellspring of human health and happiness: yoga.

Now, Outdoor Voices has released the fruit of that labour: the 'Shapes Bundle'. The three-piece set, composed of elemental shapes (hence the name) that form a roller, block and triangle, are made of solid cork. The naturally springy and regenerative material is physically unique – it is lightweight, antimicrobial, sweat-resistant and slip-resistant. Outdoor Voices was eager to elevate the daily fitness routine, even inspiring new ways of bending and stretching. 'Everything we make starts with material and we wanted to approach the blocks the same way,' says CEO Tyler Haney. 'We're super inspired by using natural materials in ways that work with the body.'

In fact, disrupting conventional drab or intimidating technical workout gear also appealed to Visibility. 'We align ourselves with companies that share our interest in good, enduring design. With Outdoor Voices, there was an exciting opportunity to collaborate on a common goal: elevating the fitness space,' says Visibility co-founder Joseph Guerra. 'The challenge was to create something that was functional, but also considered in design and something people wanted to display rather than hide.'

Haney, too, saw the possibilities of the project. 'Our goal is to free fitness from performance and keep activity lighthearted and fun,' she says. As it turns out, their partnership with Visibility proved to be just that.

'We knew the Shapes Bundle was on the right track when we gave a few to our friends at Sky Ting Yoga [studio] to test out and they immediately started goofing around together and integrating them into different types of stretches.' Seems good design isn't just for everybody – it's for fun too.
INFORMATION
The 'Shapes Bundle', $150, is now available. For more information, visit Outdoor Voices' website (opens in new tab)
ADDRESS
Outdoor Voices
199 Lafayette Street
New York, NY 10012
VIEW GOOGLE MAPS (opens in new tab)