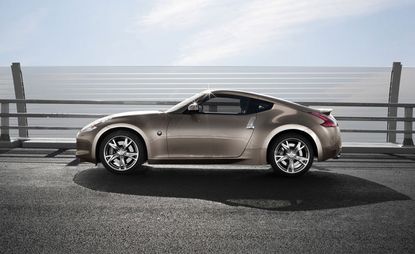 (Image credit: TBC)
The characterful car is not as common as one might think. With every volume car-maker striving to reach a universal standard, many quirks and kinks have been ironed out of the market. Even the swiftest and most sporting offerings from the big car manufacturers exude a quiet competence that, dare we say it, sometimes edge towards the bland. Of course, if all you want from a car is a simple conveyance, cosseting anonymity can be right on the money. Short of investing in an expensive piece of true exotica or a dedicated track machine, cars that incite you to drive - without a destination in mind - are rather thin on the ground.

Nissan's 370Z is intended to be different. The latest incarnation of the Japanese company's fabled 'Z' car range, the 370Z comes refreshingly free of marketing back story and implied lifestyle associations. Nissan introduced the first 'Z-car' in the late 1960s. The 240Z (actually badged Datsun in export markets) was a tacit copy of the very best of European exotica and American muscle, a superb blend made by better by its underlying Japanese reliability. The Z-cars quickly earned a cult following; the current 370Z is the sixth generation in the line.
It might look vaguely exotic, but the 370Z is, above all, a Nissan, a product of one of Japan's largest, and oldest, motor manufacturers. Better known for humble city cars (and soon, electric cars), Nissan's sports cars have always struggled slightly with the brand's less than thrilling reputation. In the 21st century, Nissan has done much to change that perception, first with the all-new 350Z in 2003, then with the mighty GT-R in 2007, and now with the 370Z, introduced late in 2008 and on sale in Europe since the summer.
As a rear-wheel drive two-seater, the 370Z has plenty of competition, but none are styled with quite such naked aplomb. For the 370Z, the company has wielded its sizeable network of global design studios with aplomb, employing a full range of stylistic tricks to make sure the car stands out. The 370Z's profile emphasises the rear wheels, with large tyres wrapped in prominent arches and a cabin that tapers away sharply (to the obvious detriment of rear visibility). Nissan is happy to play fast and loose with current design convention and go for something that is truly original. Odd details abound. The boomerang-shaped rear lights, curious intersection of body panels and eccentric forms are quirky, if not entirely cohesive or elegant. On any other car, for example, the door handles would be nearly recessed into the bodywork, perhaps concealed in the manner of SEAT or Alfa Romeo. Instead, Nissan throws in a great big vertical slab of matt metal, a handle that makes a virtue of its clunkiness.
Inside, the cabin is well specified and more than tolerably well built. Switchgear isn't quite as solid as its German equivalents, but the entertainment and navigation systems feel and act smart enough (there's even an eco-mode in the satnav to seek out the most fuel efficient routes). The driver sits low and far back behind the bonnet, a position that feels practically over the rear axle. This combination of seating position and stance instils instant confidence, which is lucky, because the 3.7 litre V6 pushes out a more than ample 322 bhp. Even in automatic mode with the full suite of traction control technology armed and engaged, it's easy to push the rear end wide. Throw in slippery autumnal road conditions, and the 370Z can be easily provoked, although precise steering and perfect balance mean it's always easy to rein things back in.
Few contemporary cars have such deliberately provocative road manners. Of course, the 370Z can easily act all calm and collected, and the sensational acceleration makes joining highways a pulse-quickening pleasure. Ultimately, however, wind and tyre noise at cruising speeds robs the car of any true grand tourer ability, while the relatively hard ride and occasional creak from the interior also makes town driving something to avoid. No, the 370Z is a plaything first and foremost, a car that demands twisting, empty roads, as well as plenty of time in hand for an extended detour.
Jonathan Bell has written for Wallpaper* magazine since 1999, covering everything from architecture and transport design to books, tech and graphic design. He is now the magazine's Transport and Technology Editor. Jonathan has written and edited 15 books, including Concept Car Design, 21st Century House, and The New Modern House. He is also the host of Wallpaper's first podcast.