New McLaren Production Centre by Foster + Partners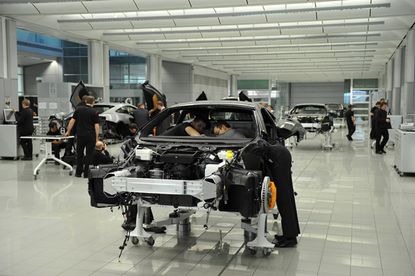 (Image credit: press)
Although Foster and Partners' McLaren Technology Centre design is now six years old, it is still nothing short of architectural and automotive Shangri-La. Every aspect of this structure is clean, clinical and present for good reason, philosophies that are instrumental to McLaren's success as an F1 racing team and a purveyor of very exclusive supercars. After Ron Dennis stood down as McLaren F1 team principle in the spring of 2009 he launched straight into the next stage of the company's ambitious expansion plans, announcing the creation of McLaren Automotive, a new division tasked with setting the benchmark for the design and development of innovative, bespoke but most of all unique high-performance sports cars.
Since then Dennis and his team have progressed at an astonishing rate. The MP4-12C (W* December 2009) is the company's first, and thus most important, car. Designed and developed by a world-class team of engineers and test drivers, the MP4-12C will be built to world-class levels of quality and reliability, benefiting from technology and development skills honed by McLaren's expansive expertise in Formula 1.
The car isn't due for market launch until around March 2011, meaning there's still a frantic amount of groundwork to be undertaken to help the company slipstream straight to the head of a field, including setting up a global dealership operation. At present the 12C is in the final stages of development and the first stages of production, setting its sights on a market launch in March 2011. Pre-production models are still undergoing last minute testing, while order books are starting to fill up, thanks to high profile appearances at the Goodwood Festival of Speed and elsewhere. The architectural perfectionism of the Technology Centre is being replicated in the company's new production facility, a rather essential element of bringing a car to market.
The new Production Centre, costing an estimated £45 million, is currently rising in the landscaped grounds of McLaren HQ. Collaborating once again with Foster + Partners, the building will take design leads directly from the Technology Centre, so expect a common language of materials, forms and meticulous attention to detail. The Production Centre is a low energy structure, with a roof designed to collect rainwater, a displacement ventilation system and the same relaxed interior ambience and air quality of the MTC.
Foster + Partners consider McLaren's manufacturing processes to be closer in spirit to an operating theatre than a factory, and the new building, with its ceramic tiled floors, is designed to showcase this love of technology and the undeniable fascination of seeing a complex thing assembled. It is connected to the MTC by a subterranean walkway (Dennis likes his architecture to have a touch of the Ken Adam about it), allowing production engineers ready access to the design and engineering teams. As Alan Foster, the company's Operation Director, explains, 'McLaren is unique in having its design and engineering teams literally seconds away from the production hall, so if a design doesn't work, the engineer responsible will know about it because the production line is literally under his nose.'
Recent announcements continue to demonstrate just how seriously McLaren Automotive is taking its assault on the performance car market. For example, the new London showroom - the company's European flagship space - will be located at the foot of One Hyde Park, the Rogers Stirk Harbour apartment building in Knightsbridge that is being billed as one of the world's most premium residences. McLaren might have made its name through the application of enthusiasm, technology and skill, but the company's strong design sense is underpinned by rigorous business planning.