Foster + Partners' 'vertiport' terminal for Dubai, plus eVTOL aircraft on the up
Whilst eVTOL (electric-powered vertical take-off and landing) aircraft seem a no-brainer, physics, legislation and a welter of complexities keep the tech in development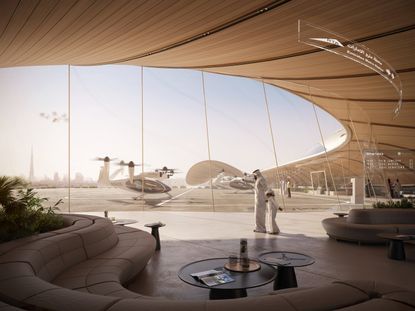 (Image credit: Foster + Partners)
Foster + Partners has released images of its concept design for Dubai's debut vertiport terminal, working hand-in-hand with Skyports to shape the infrastructure for this next generation of aviation. We've been tracking the evolution of the electric airport of the future for a number of years, as big players like Stellantis and Hyundai join forces with a hangar-full of start-ups like Joby and Lilium to grab a slice of the zero-emission skies.
Foster + Partners' vertiport for Dubai
Foster + Partners' provisional concept design envisages a vertiport terminal alongside Dubai International Airport (DXB), with three other locations elsewhere in the emirate. The eVTOL (electric vertical take-off and landing) industry is looking to the Middle East to be the technology's landscape of early adoption, and the enormous investments in infrastructure are a good opportunity to find space for eVTOL. According to the Foster + Partners team, the Dubai concept is all about providing 'seamless, sustainable travel across the city for international and domestic passengers'.
The suggested arrival date for this mix of new tech and new infrastructure is 2026, by which time the skies could be alive with newly certified aircraft, buzzing this way and that in a frenzy of autonomised activity. Plans are also afoot for a similar outpost at next year's Paris Olympics, with Skyports working alongside Aéroports de Paris to run a service using Volocopter's Volocity.
Reaching for the skies around the world: eVTOL air taxis of the future
Mindful of the broken promises, endless technical obstacles and increasingly wary public perception of the autonomous car, the eVTOL industry knows it has to run a marathon, not a sprint, in order to bring these services to market. That said, autonomous flying is theoretically easier to compute than the infinite complexity of the terrestrial road system. It's just that mistakes are rather more costly.
eVTOL's golden promise is point-to-point, short-hop travel, providing the connective glue within a wider network of long-haul flights and high-speed rail. Here is a selection of new aircraft hoping to be contenders for the air taxi of the future.
Atea by Ascendance Flight Technologies
The Atea is a five-seater hybrid eVTOL aircraft, designed and developed by the Toulouse-based Ascendance Flight Technologies. Currently in prototype stage, the company hopes to enter service in 2026. The Atea uses a hybrid system, with batteries powering take-off and landing to reduce noise and emissions in urban centres, and traditional kerosene power giving the craft a helicopter-like range of around 400km.
Lyte Aviation Skybus
The Skybus is perhaps the largest eVTOL solution in development. A 40-seater hybrid-electric tilt-rotor, the Skybus is an ambitious project that updates the ill-fated 1957 Fairey Rotodyne, a large gyrodyne (an aircraft that uses a rotor for lift and conventional props for forward flight) once envisioned as the future of inter-city transportation. The Rotodyne – which actually flew – was canned due to its excessive noise. Lyte still has a long way to go before it even builds a prototype, even though the basic concept is sound.
Prosperity 1 by AutoFlight
AutoFlight is one of the few companies to have a substantial eVTOL craft up and running. The company's craft currently holds the record for the world's longest eVTOL flight (a distance of 250km on one charge) and has also announced orders for 200 aircraft from EVFLY, a new air fleet management and operation company specialising in the electric sector. The Chinese manufacturer believes its Prosperity aircraft can be used for both passengers (seating up to four) and cargo, in both autonomous and piloted versions. EVFLY plans to kick off with cargo services before moving on to the more complex air taxi application.
Generation 6 by Wisk
California-based Wisk is backed by Boeing, giving it serious support in its bid to become America's first all-electric air taxi. Their Generation 6 is a four-seater passenger craft designed from the outset to be fully autonomous. Powered by a total of 12 propellors, six of which tilt for forward flight, the Generation 6 has a spacious cabin and plenty of luggage space.
Jonathan Bell has written for Wallpaper* magazine since 1999, covering everything from architecture and transport design to books, tech and graphic design. He is now the magazine's Transport and Technology Editor. Jonathan has written and edited 15 books, including Concept Car Design, 21st Century House, and The New Modern House. He is also the host of Wallpaper's first podcast.