Monsieur Dot: Frédéric Malle puts Gianni Agnelli in a bottle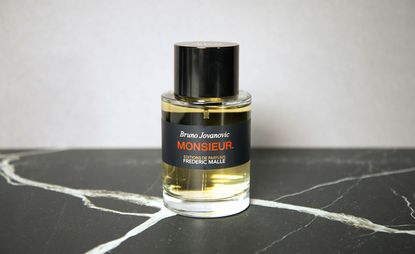 (Image credit: Frédéric Malle)
The latest perfume from Frédéric Malle has divided opinion here at Wallpaper*. Reactions have ranged from 'cough mixture' and 'Vicks Vaporub' to 'really manly' and 'chest wig'. Malle himself describes it as 'super manly, very polished, though not affected. A natural masculine elegance.' Though not necessarily to our taste, it's admirably bold and definitely stands out from the current crowd of identikit male fragrances, which in itself is a quality to admire.

Created by the French perfumer Bruno Jovanovich, 'Monsieur.' (aka 'Monsieur Dot') is a disco anthem to the 1970s playboy, all bay rum and alcohol with a whiff of cigarette smoke thrown in – think Withnail and I meets Gianni Agnelli. It's based around patchouli, that all-too-popular scent of the time, but rather than the sweet, dope-addled patchouli of Camden Market hippy shops, this one is raspy and slightly grubby round the edges, reminding us that it's derived from a common weed of Indian roadsides.

According to Malle, patchouli accounts for half of Jovanovich's formula, but there's also an odd mix of sweet and bitter ingredients, including mandarin orange and bay rum. The formula also includes synthetic amber and musk for longevity and plushness, with cedar, frankincense and vanilla adding extra smokiness and depth. 'Bruno showed the appetite of a young perfumer,' Malle says. 'He wanted to work on a classic and to compare himself with the other star perfumers I've been working with. That being said, he proved that he is already super mature when it comes to finishing such a hard product to make.'

If you like old-fashioned masculine smells and rum then 'Monsieur Dot' is probably for you; if not you might find it rather overpowering, though Malle is unrepentant. Asked whether men are re-embracing a more traditional form of masculinity, he proffers a very Gallic reply. 'We live in a kaleidoscope full of different characters – a sort of à la carte world. There must be elegance, no bullshit – traditional elegance out there.'

As for its intriguing name, Malle explains that his idea was for a perfume, 'Designed for a real Monsieur with no extra thrills or necessary embellishment, hence the "."' We certainly get his point.
INFORMATION
'Monsieur.' eau de parfum, €200 for 100ml. For more information, visit Frédéric Malle's website (opens in new tab)