Modern mobility: Salone drives a new definition of car creativity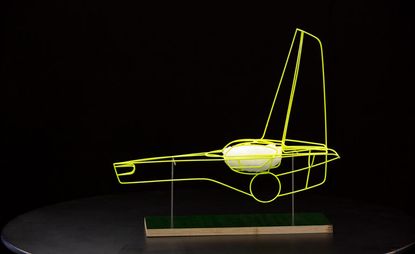 (Image credit: press)
There was a time when carmakers came to Milan to observe. A handful of the more advanced designers would visit Salone del Mobile to be inspired by the wider creative community. This, however, is beginning to change, with an increasing number of car manufacturers partaking in the last few years - with mixed results.
Milan acts as a fantastic branding exercise, which is naturally part of the pull. Yet there are certain silent codes when participating here. The Salone is not, for instance, a platform for unveiling a new car and showcasing products and furniture based on the contour of the latest concept perhaps lacks imagination.
Take a tour of all the auto brands' projects at Salone

Surely with the concentration of creative minds gathered here for the week, Milan should be the ideal platform for discussions on contemporary subjects - namely mobility. These are urgent matters that can benefit greatly by involving original minds from outside the insular auto world.

This year BMW, Mini, Lexus, Mazda, Ford and Hyundai participated in Milan, and what they showed with their choice of collaborations provides an insightful window into their philosophy.

The BMW Group took on the theme of future mobility by engaging non-automotive designers in the dialogue. Spanish artist and designer Jaime Hayon embellished Mini's latest Citysurfer with bold colours and textures displaying the foldable scooter concept in a fictional city of marble roads and oversized road lamps.

Zurich-based designer Alfredo Häberli worked closely with the team at BMW to unravel a range of scenarios that address driving in the future. It was an inspiring study of how we could move from place to place - of our relationship with driving once the car becomes an autonomous object. The display here addresses mobility in a much wider context, taking on the vessel, road structures, architecture and city planning.

Others took on a more linear approach. Ford, for example, exhibited a range of objects inspired by its latest GT concept including a boat, chair, chaise lounge and guitar. Elsewhere, Mazda took on a similar scheme with a different objective allowing the non-car products to interpret the marque's Kodo design philosophy in novel ways. Hyundai, on the other hand, looked at how the finance and art world could connect.

Finally, Lexus offered a highly conceptual installation. This was a journey through the 'cycle of life', via designer Philippe Nigro's latticework cocoons and enhanced by unusual tasters created masterfully by chef Hajime Yoneda. The idea was to excite us, to awaken our senses in order to explore the possibilities of design, making the act of driving a more sensory experience.