Mercedes' electric dreams become reality with EQC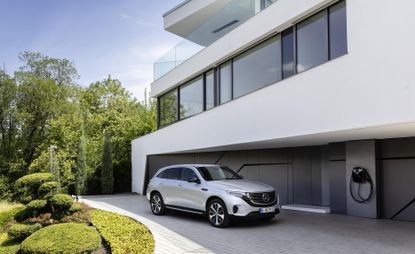 (Image credit: TBC)
Earlier this month, the German luxury marque unveiled its first proper full-electric vehicle, a mid-size SUV called EQC. Yes, there have been explorations into the world of EVs from Daimler before – from a chunky early 1970s Mercedes van to a smattering of full-electric B-Classes and city cars from sister brand Smart more recently – but they were limited-run in scope and range, more tokenistic toes in the water than serious intent.

The EQC by contrast will be a mass-produced electric vehicle offering 300kW of combined power from a compact electric drivetrain at each axle for all-wheel drive characteristics and a very usable 280-mile range before re-charging. The EQC 400 – to give the car its full name – will be expensive, circa £65,000, but it heralds a range of more affordable EVs to follow under Mercedes' new EQ sub-brand. The EQC will be available to buy from mid-2019 and the next EQ model – likely a smaller SUV akin to the existing GLA – should follow by mid-2020. Daimler's chairman Dr Zetsche declared the moment as no less than 'the dawn of a new era for our company'.
The EQC's design follows the 2016 EQ concept, but in the metal the EQC projects a more conventional face than the concept's futuristic one-piece wrap-around fascia, with lamps and grille tucked underneath. The EQC has a more regular car grille, that is actually closed off behind its horizontal bars, as EVs don't need as much air sucked into the car from the front, but it doesn't look that way at first glance. Alongside a very conventional SUV silhouette – the platform is shared by the hot-selling GLC – the visual message, loud and clear, is: 'Have no fear, this a regular-looking car, just electric'. Despite the exterior similarities to the GLC, the EQC is actually longer and lower and Mercedes says every exterior element is different except the door handles and wing mirrors.

The cabin space is arguably more distinctive. The dashboard has been cutaway to make room for a wide infotainment screen similar to that in the new A-Class. The EQ's system has some unique new features including the ability to schedule a whole week's charging in advance by date and time. From an aesthetic perspective there are some lovely EQ-specific touches too, especially the metallic slats on the interior door panels and dash, inspired by the cooling ribs of electronic equipment.
'We wanted to add some extra warmth to the interior too,' global head of interiors Hartmut Sinkwitz explains, 'and I think we have achieved it through an upper dashboard covering that feels woven like a textile but is actually stamped to look like high-tech sportswear. The finish is slightly metallic which helps give a shiny "welcome home" feeling.' Sitting in the driver's seat it certainly feels upmarket and slightly futuristic, which should help differentiate the EQC from the £36,000-plus regular petrol and diesel GLC range.

When a brand as significant as Mercedes starts to take electric vehicles seriously – remember that its parent company Daimler invented the car 132 years ago – it adds weight to the notion that EVs are really about to come of age.
INFORMATION
For more information, visit the Mercedes-Benz website (opens in new tab)