Motel life: a cinematic exploration of Wildwood's mid-century masterpieces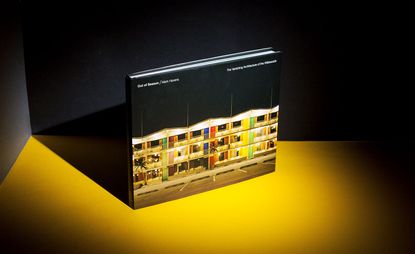 (Image credit: Michael Ainscough)
Lo and behold! There is much more to the Jersey Shore than meets the eye. Away from the crowded tourist bustle, decadent kitsch atmosphere and boardwalk arcade illumination, there is, (or was) an untapped mid-century modern architectural forgotten land.

Captured over ten years, Philadelphia-based artist Mark Havens gives the motels of the New Jersey city of Wildwood a different moment in the spotlight, away from the off-highway, cheap and tacky film references that popular culture associate them with. Essentially a revolutionary architectural diary, the new tome titled Out of Season: The Vanishing Architecture of the Wildwoods historically marks a dialogue that is comparable to many mid-century modern architects.

'Miesian rectitude meets Eamesian playfulness on the Jersey Shore,' Jamer Hunt cites in an opening essay. Haven zooms in on these hidden details, the subtle repetitiveness, an inject of colour, and the simple lines and angles all surrounding these treasures.

The buildings were initially created in the 1950s and 60s in anticipation of a new highway connecting even more tourists to the area. They have since been stuck in time, pristine, but slowly deteriorating, going 'out of season' and 'vanishing' as the title suggests.

The visual narrative works as a 24-hour period from dawn till dusk, ominously representative of the existence of the motels and their demise. The lens focuses on many a detail; the patterns created from the shadows of Louisville & Atlantic's balustrades, the sleek flat roofs of Palm & Atlantic and a bold use of solid colour across many.

Havens still maintains some of the savoir faire of motels though, like the piercing neon lights that stand out. Featured towards the end, the reel of different signs, and their equally gimmicky names, 'Pyramid', 'Blue Water', and 'Fleur de Lis', marks a slightly forbidding end to the intimate celebration of these landmarks.
INFORMATION
Out of Season: The Vanishing Architecture of the Wildwoods by Mark Havens, £30 by Booth-Clibborn Editions. Available from 21 June from the publisher's website
Receive our daily digest of inspiration, escapism and design stories from around the world direct to your inbox